Due to inactivity, your session will end in approximately 2 minutes. Extend your session by clicking OK below.
Due to inactivity, your session has expired. Please sign in again to continue.
Samsung Galaxy S10 unboxing your phone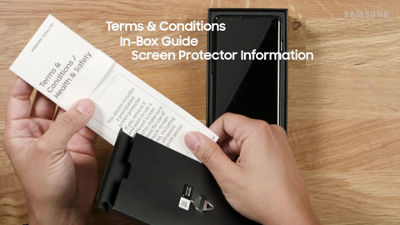 See what comes in the box with your Samsung Galaxy S10!
samsung-galaxy-s10-unboxing-video:

Video Transcript
Samsung Galaxy S10 unboxing your phone (1:01)
Alright, now let's open up our Samsung Galaxy S10 box and see what's inside.
We have the terms and conditions and the in-box guide. Along with a notification about your on-device screen protector. And we also have our sim ejector tool, which you could use for inserting your sim and SD card into your device.
Then we have the Galaxy S10 itself. Nice!
Three cameras on the back. Fantastic!
Now also in this box we have our Adaptive fast wall charger. It's going to be great for fast charging your device.
And then we have this USB connector here. You're going to want to hold onto that for things such as Smart Switch from your old device.
We also have the USB cable, use that to connect to the wall charger.
Last but not least, we have our AKG earbuds which you can plug right into the headphone jack on your Galaxy S10.
© 2023 Samsung Electronics America, Inc. Samsung and Galaxy S are trademarks of Samsung Electronics Co., Ltd.

Connect with us on Messenger

Visit Community
24/7 automated phone system: call *611 from your mobile