Due to inactivity, your session will end in approximately 2 minutes. Extend your session by clicking OK below.
Due to inactivity, your session has expired. Please sign in again to continue.
Samsung Gear S2 Software Update
Verizon Wireless is pleased to announce a software update for your device. This software update has been tested to optimize device performance, resolve known issues and apply the latest security patches.

Before you download:

Connect your device to a Wi-Fi network, or make sure it has a strong Verizon Wireless network connection.
Ensure your battery is fully charged before starting the software update.
System Update
Software Version: R730VVRU3CQC3
This software update provides compatibility with Samsung's next flagship smartphone, security updates and an improvement in charging performance.

Improved battery charging with a better connection between the Gear S2 and the charging cradle.

Updated: 04/27/2017
System Update
Software Version: R730VVRU2CPK8
This software update brings newly refined and improved interactive experiences to your Gear S2.

Customize your watch faces:

Use your own unique photos and graphics to customize your watch face with the My Photo app. There are new colors for basic watch faces too.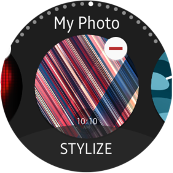 Enhanced Smart Replies:

Reply to your text messages with ease, straight from your Gear S2. Enhanced Smart Reply now creates predictive responses based on the incoming message.
Multimedia Messages:

Interact creatively with your contacts by sending and receiving multimedia messages, voice recordings, Doodles, even your handwriting, directly from your Gear S2.
Inactive alarm:

Stay motivated during your workouts with the Inactive Alarm (via the S Health app). Your Gear S2 will remind you to keep going strong when no movement is detected while you exercise.
Next steps and additional links
Please allow additional time for the apps on your device to continue to download after the software update.
Check out the latest Verizon offers and upgrade to a newer Samsung smartwatch. Not sure if you're eligible to upgrade yet? Find out fast in My Verizon.
©2019 Samsung Electronics America, Inc. Samsung and Gear S are trademarks of Samsung Electronics Co., Ltd.