Internet Service Provider in Lehigh Valley PA
Verizon DSL – Your local internet service provider
in Easton and Allentown, PA.
From skiing and snowboarding in winter to taking in beautiful parks and trails in the summer, there's a lot to love about Eastern PA. With so much to enjoy, why waste time dealing with the hassles of dial up internet?
If you've been using dial up for your internet service in Easton or Allentown, you know what we mean. First there's the wait for the modem to pick up and dial the access number. Then you can face busy signals when you try to connect during peak times. And if you do finally connect to your dial-up ISP, you have to worry about your connection being interrupted whenever someone in your home picks up the phone. That's not to mention the "speed" you get with dial up internet. Trying to download a few photos that someone emailed you? Hope you don't plan to leave the house for a while.
But not to worry. Because Verizon has you covered with high-speed DSL internet services in Easton and Allentown, PA. DSL is different from dial up. It's faster, hassle-free and much more reliable. And the signal runs through a wireless router so you can set up your own home Wi-Fi network. Plus, DSL service from Verizon doesn't tie up your phone line like dial up internet.
Verizon offers two high-speed internet plans in the Easton-Allentown area: High Speed Internet is great for everyday browsing, while High Speed Enhanced is a faster tier that's made for downloading, streaming videos and more. Verizon home phone service is required for either plan.
To get started, check availability at your address and sign up today.
What is DSL?
A 24/7 connection to the internet. Way faster than dial up internet.
Short for "digital subscriber line," DSL is a type of technology used for connecting homes and businesses to the internet over a traditional telephone network. In other words, Verizon DSL provides you with a high-speed internet connection through your existing phone line. But DSL is not dial up.
How is DSL different from dial up internet?
For starters, Verizon DSL service provides you with a dedicated broadband connection to the internet that offers greater bandwidth capacity than dial up. That makes it much faster and far more reliable than traditional dial up internet. In fact, Verizon DSL features 99.9% network reliability.
Plus, unlike dial up, DSL lets you use the phone and internet at the same time. That means you won't face the inconvenience of tying up your phone or fax line while you're connected to the internet, a hassle that customers searching for internet services in the Lehigh Valley shouldn't have to deal with.
DSL by Verizon. It's home internet service with consistently fast speeds and proven performance.
How is DSL different from cable?
A Verizon DSL connection gives you a dedicated internet access line from our central office to your home. It's a broadband internet connection that's all yours. So, unlike cable internet, with DSL you're not sharing your broadband connection with other customers on your street.
Can I use Wi-Fi with DSL?
Yes, with a wireless router installed, you can use your DSL connection to set up your own home wireless network. Connect multiple Wi-Fi enabled devices to the internet using Wi-Fi – computers, tablets, smartphones, gaming devices and more.
What do I need to get started with Verizon DSL?
You'll need a broadband router and phone service from Verizon. That's about it. If you purchase a wireless router from Verizon, you'll be provided with firewall protection and a fast, reliable wired and wireless connection to multiple computers. Setting up DSL service is easy. Just follow the Instruction Guide that will come with your self-installation kit.
Verizon DSL has you covered throughout Pennsylvania.
High speed internet across the Keystone State.
Looking for affordable high-speed internet services in Northampton or Lehigh County? Verizon has Easton and Allentown covered with fast DSL service and 99.9% network reliability.
Whether you live in Easton's West Ward, Allentown's East Side or nearly anywhere else in the Delaware Valley, you can enjoy broadband internet service with the speed and reliability you need. Check Verizon DSL availability at your home and sign up today.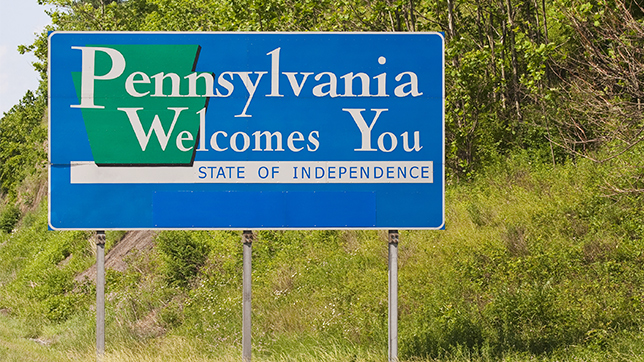 Verizon also provides DSL service in the following cities in Pennsylvania: