Verizon Internet Service Provider in Reading PA
Verizon DSL – Your local internet service provider
in Reading, PA
Reading, you played a critical role in our Revolution and you lent your name to the one railroad property we somehow always landed on but could never, ever own. For that, you deserve fast internet.
And if you're looking for reliable internet services in Berks County with enough bandwidth to keep you surfing, streaming and downloading at top speed, Verizon has you covered with high speed DSL service.
Like those famous Reading locomotives of yore, Verizon's internet service is powerful and fast. In fact, it's way faster than dial up internet – and much more reliable. Plus, with a broadband connection you can set up your own home Wi-Fi network. And DSL service from Verizon doesn't tie up your phone line like dial-up internet.
So why deal with the hassle of dial up when you can get broadband internet from a top internet provider in Reading, PA? Whether you're uploading pictures you took of the kids in front of the pagoda or buying tickets to tomorrow night's baseball game, you can do it all from the comfort of your home.
We have DSL internet plans that fit your needs in southeast PA.
We offer two speed tiers of DSL service in the Reading, PA area: High Speed Internet and High Speed Internet Enhanced. High Speed Internet lets you surf, shop and email for a great value. High Speed Enhanced is a faster plan that lets you zip through downloading, streaming videos and more. Verizon home phone service is required for either plan. 
To get started, check availability in your neighborhood and sign up today.
What is DSL?
A 24/7 connection to the internet that lets you create your own home Wi-Fi network.
Short for "digital subscriber line," DSL is a type of technology used for connecting homes and businesses to the internet over a traditional telephone network. In other words, Verizon's DSL provides you with a high-speed internet connection through your existing phone line. But DSL is not dial up.
How is DSL different from dial up internet?
For starters, our DSL service provides you with a dedicated broadband connection to the internet that offers greater bandwidth capacity than dial up. That makes it much faster and far more reliable than traditional dial up internet. In fact, Verizon's DSL features 99.9% network reliability.
Plus, unlike dial up, DSL lets you use the phone and internet at the same time. That means you won't face the inconvenience of tying up your phone or fax line while you're connected to the internet, a hassle that customers searching for internet services in Berks County shouldn't have to deal with.
DSL by Verizon is your choice for fast, affordable home internet in Reading, PA.
How is DSL different from cable?
A DSL connection gives you a dedicated internet access line from our central office to your home. It's a broadband internet connection that's all yours. So, unlike cable internet, with DSL you're not sharing your broadband connection with other customers on your street.
Can I use Wi-Fi with DSL?
Yes, with a wireless router installed, you can use your DSL connection to set up your own home wireless network. Connect multiple Wi-Fi enabled devices to the internet using Wi-Fi – computers, tablets, smartphones, gaming devices and more.
What do I need to get started with Verizon DSL?
You'll need a broadband router and phone service from Verizon. That's about it. If you purchase a wireless router from Verizon, you'll be provided with firewall protection and a fast, reliable wired and wireless connection to multiple computers. Setting up DSL service is easy. Just follow the Instruction Guide that will come with your self-installation kit.
Verizon DSL has you covered throughout Pennsylvania.
High speed internet across the Keystone State.
Looking for affordable high-speed internet services in Berks County? Verizon has Reading, PA covered with fast DSL service and incredible network reliability.
Whether you live in Hampden Heights, Penn's Commons or nearly anywhere else in the city, you can enjoy broadband internet service in Reading with the speed and reliability you need. Check Verizon DSL availability at your home and sign up today.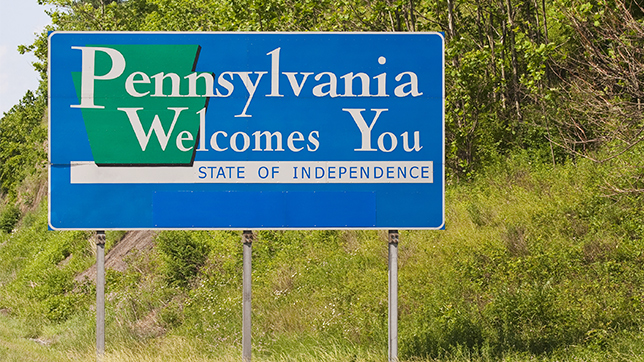 Verizon also provides DSL service in the following cities in Pennsylvania: