Verizon 5G Ultra Wideband is right on track
On and off the blacktop, the next generation of wireless technology is picking up speed.
Full Transparency
Our editorial transparency tool uses blockchain technology to permanently log all changes made to official releases after publication. However, this post is not an official release and therefore not tracked. Visit our learn more for more information.
More of our content is being permanently logged via blockchain technology starting [10.23.2020].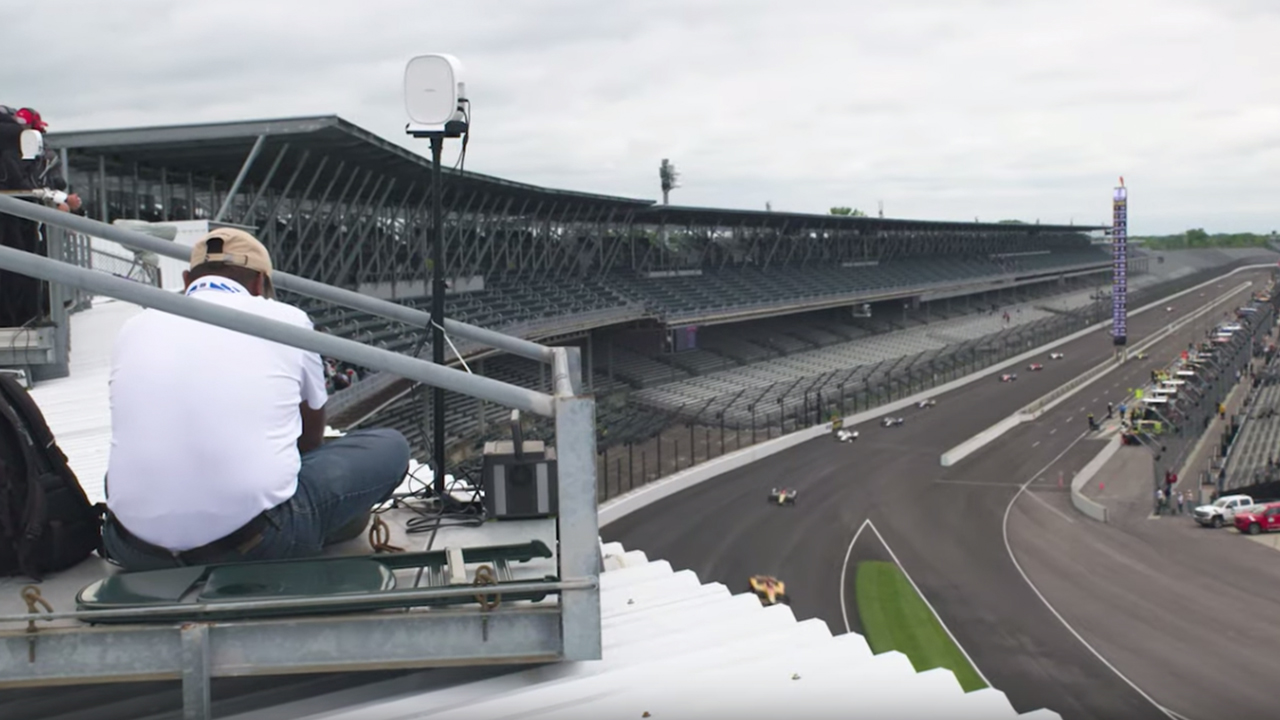 Two years ago, in the lead-up to the Indianapolis 500, Verizon conducted an incredible 5G mobility test. To show off 5G's low latency, we blacked out a car's windows, forcing the driver to rely on a video relay, captured and sent in near-real time from a hood-mounted camera to his VR glasses. For a "blind" test run, the results were decidedly eye-opening. But that was just the beginning.
Two years later, Verizon returned to assist Team Penske in its preparations for the Indy 500. Harnessing the speed of 5G Ultra Wideband, the team streamed high-quality video content from connected cameras to analyze the performance of cars coming in and out of the first turn of the 2.5-mile speedway. During practice laps and time trials, engineers used the video transmission to overlay feeds from previous laps, giving them the ability in near-real time to compare race lines and alert the team to necessary mid-run adjustments.
This kind of analysis used to take hours. Now it took mere seconds. Faster data can mean faster run times, which amounts to a competitive edge, especially when the difference between first and last place can be a couple hundredths of a second.
For Verizon, honing a transformative technology like 5G is a bit like running a race. With the right people, the right prep and enough perseverance, you should find yourself outpacing the field.
Picking up speed
The two short years between Indy tests have been a blur of 5G network activity. From early field trials in 2017 to being first in the world to deploy a commercial 5G network that works with a 5G smartphone, Verizon has been leading the industry in nationwide 5G deployment. Businesses and consumers in select areas of Chicago, Minneapolis, Denver, Providence, St. Paul, Atlanta, Detroit, Indianapolis and Washington, D.C. can now access our 5G network with five different 5G-enabled devices: the LG V50 ThinQ™ 5G, the Motorola moto z3 and z4 combined with the 5G moto mod, the Samsung Galaxy S10 5G and the Inseego 5G MiFi® M1000 hot spot.
In addition to lighting up more than 30 5G mobile markets this year, Verizon is gearing up to expand 5G Home Internet coverage. Residents in parts of Houston, Sacramento, Los Angeles and Indianapolis already have access to the world's first 5G-powered residential broadband service, and more communities will come online this year.
In the future, everything is going to be transformed by 5G. The pace of technological change in decades past has been fast. In the future, it's going to be even faster. We're going to experience a technological shift that will transform people, businesses and society as a whole.
— Hans Vestberg, Chairman and CEO of Verizon
More access means more opportunity for innovation, as well as an increased responsibility to reimagine the potential of a wireless platform. In a relatively short amount of time, the performance of Verizon 5G Ultra Wideband has shifted expectations of what a next-generation network can be. From smarter communities and autonomous vehicles to transformative healthcare and augmented reality, Verizon 5G Ultra Wideband will help improve existing technologies and may assist in the creation of new experiences we haven't even dreamed up yet.
"In the future, everything is going to be transformed by 5G," says Verizon Chairman and CEO Hans Vestberg. "The pace of technological change in decades past has been fast. In the future, it's going to be even faster. We're going to experience a technological shift that will transform people, businesses and society as a whole."
Taking the lead
As with any rapidly evolving technology, the potential of Verizon 5G Ultra Wideband can only be known if innovative people can use it.
At Verizon 5G Labs—launched in 2017 and now in five cities across the country—startups, universities and enterprise teams are exploring the boundaries of network technology and creating potentially transformative new application areas. Together, they're rethinking what's possible in a 5G world, including 3D medical imaging, advanced cloud mapping, emergency response and remote therapy. In their brief existence, the 5G Labs have demonstrated that amazing things can happen when groundbreaking thinkers have access to cutting-edge network technology.
"There are so many problems that these startups can solve with our technology and connectivity," says Sanyogita Shamsunder, vice president of 5G ecosystems and innovation at Verizon. "That's what excites us. There are people out there who are building solutions, and we can help them build them better, with greater scalability. It's a win-win for all of us."
And Verizon is actively courting the next wave of disruptors with the Built on 5G Challenge, a nationwide search for the best products, services and applications that will bring the true power of Verizon 5G Ultra Wideband to life. Winners will earn $1 million in funding, access to the 5G Lab and the opportunity for Verizon to invest in a future round of fundraising.
Crossing the finish line
Simon Pagenaud ultimately took the checkered flag at the 2019 Indianapolis 500, giving Team Penske its 18th overall win at the contest. Verizon is proud to have played a role in the team's success, but we're keeping our foot on the gas.
"Being able to do what we did at the Indy 500 requires innovation, and innovation requires many people working together," says Vestberg. "When I think about technology, I also think the good it can do for our society. Because it's ultimately not only about what the technology can do, but about what people can do with it."
For related media inquiries, please contact story.inquiry@one.verizon.com