Verizon home phone services in Bellerose, NY
Upgrade your home phone service for the digital age with dozens of enhanced calling features and the power of 100% fiber-optic technology with Fios Digital Voice. It's a better way to stay connected.

Browse all Verizon services in Bellerose, NY
Get better connections on the best network, from streaming to calling to gaming. Do it all with Verizon home internet, TV and digital voice and cell phone service from Verizon.

Mobile Cell Phone
Verizon offers the best unlimited talk, text, and data plans on America's best network.
See cell phone plans

Home Internet Service
Fast, reliable broadband internet service from our high-speed network.
Learn more

High-Definition TV
Choose from a wide variety of TV entertainment plans that all offer brilliant picture quality with 99.9% reliability.
Learn more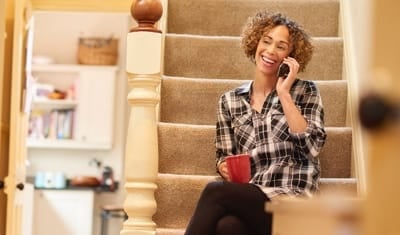 Reinvent your landline phone with features that let you manage it online.
-Amazing nationwide coverage.
-Advanced calling features.
-Bundle with Fios or DSL Internet and save.
About Verizon home phone services in Bellerose, NY
Verizon Fios Digital Voice (FDV) is an advanced, versatile home phone service powered by the Verizon 100% fiber-optic network. It provides unlimited local and long distance calling within the U.S. with crystal-clear calling, superb reliability, and many new, innovative and time-saving features.
With Fios Digital Voice, you get more than 30 enhanced calling features for added control and flexibility when making and receiving calls. You can turn on features like Call Forwarding and Do Not Disturb, set up voice mail notification by email or text message, listen to your voice mail messages, review call logs and more. Choose the plan that fits your needs and budget, then get ready for incredible calling.
Questions are good. Answers are better.