Due to inactivity, your session will end in approximately 2 minutes. Extend your session by clicking OK below.
Due to inactivity, your session has expired. Please sign in again to continue.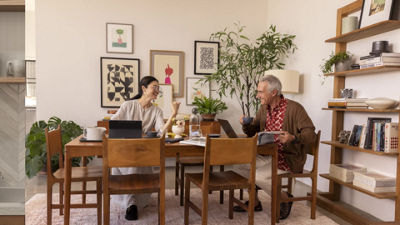 Use your mobile number for hands-free calls on Alexa-enabled smart speakers at home.
number-share-home-video:

Video Transcript
Get Number Share - Home (0:48)
Voice-enable your life with Verizon Number Share - Home.

Smart calls through your smart home.

With Number Share - Home, connect your Verizon mobile phone number with your Amazon Alexa-enabled devices for convenient hands-free calling, from anywhere in your home covered by Wi-Fi.

Staying connected when your hands are full has never been easier.

You can seamlessly make and receive phone calls when your mobile phone is out of reach, or even if the battery is dead.

Almost everything works just like you're using your actual phone.

Caller ID will display your name or mobile phone number to the other party when making an outbound call.

And you'll have peace of mind knowing you can make 911 emergency calls.*

It's your call. Make it through your Alexa-enabled device with Number Share - Home.

Try it for 30 days, on us.**

Visit the Number Share page and get activated today.

*We cannot guarantee your precise location to emergency call takers. You should always tell the emergency call taker your location, if possible. It is very important that you update your 911 address for your smart-speaker enabled device whenever you change your location, since this is the location that will be given to emergency responders when you dial 911 with Number Share - Home. You can update your smart-speaker device through your device's settings. Number Share - Home cannot be used with or support 911 calls over TTY devices.
**After the first 30 days, you'll be charged $5/mo. per enrolled line. You can cancel Number Share - Home at any time in the My Verizon add-ons page.

Connect with us on Messenger

Visit Community
24/7 automated phone system: call *611 from your mobile