Due to inactivity, your session will end in approximately 2 minutes. Extend your session by clicking OK below.
Due to inactivity, your session has expired. Please sign in again to continue.
One Talk T67LTE Desk Phone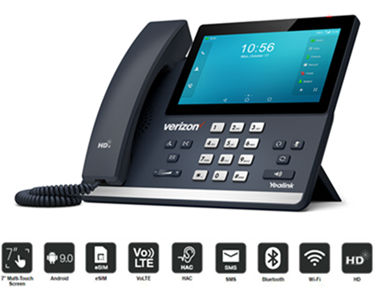 The T67LTE is the first advanced desk phone with embedded 4G LTE cellular technology available in the USA. The 7" screen and functions are intuitive and offer a user experience similar to an Android™ smartphone.

Setup is easy as it requires no network wiring, firewall configuration or network testing.

The T67LTE is the perfect device for our One Talk mobile-first business phone system that is designed for how you work today and into the future — call, collaborate and connect while you're on the go or in the office.
Proud finalist for the 2021 Fierce Innovation Award

Benefits

First advanced desk phone with embedded 4G LTE cellular technology available in the US

No complex ethernet wiring, firewall configuration or network testing needed. The phone can be easily moved to any location with a Verizon network signal — at the office, customer location, home, hotel, etc.

Cellular, Wi-Fi, & Ethernet — Business Continuity

If your network or internet go down, calls keep coming through over the reliable Verizon cellular network to help assure business continuity. Ethernet and Wi-Fi are also included if an internet connection is preferred or a cellular signal is not available.

Superior call and audio quality

Voice communications are prioritized on the Verizon network and HD audio provides the same advanced technologies as smartphones.

Wireless freedom and reliability

Android Operating System and a built-in eSIM card — communications go over the Verizon Wireless 4G / VoLTE Network.

Frees up internet bandwidth

No need for an internet connection, so it helps improve performance of other devices and apps on your network.

Easy setup and configuration

Just unbox, plug the power in, and easily configure similar to a smartphone.

Voice and messaging
Just like a smartphone, a user can call and respond to SMS/text messages.

Red Phone (T67LTE with a red handset and red wallpapers loaded)

| | |
| --- | --- |
| Help enable strategic locations with more reliable and visible communications devices including optional red handset, customizable "emergency red" wallpapers, Call Recording Disable, and Wireless Priority Service (WPS). | |

Key Features

Android Operating System
7-inch (800 x 480) touch screen
Built-in eSIM
VoLTE calling
Optimal HD audio, Smart Noise Filtering
Built-in Bluetooth® 4.2; supports Bluetooth headset
Built-in dual-band 2.4G/5G Wi-Fi
USB Type A port; supports USB headset and USB flash drive

Technical Specifications

Audio

HD voice: HD handset, HD speaker
Hearing-aid compatible (HAC) handset
Acoustic shield and Smart Noise Filtering
Audio codec: AMR, AMR-WB
DTMF: In-band, out-of-band (RFC 2833)
Full-duplex hands-free speakerphone with AEC

Phone

1 IMS account (LTE mode)
Call forward, call waiting, call transfer
Mute, do not disturb, call hold, redial, call return
SMS
Emergency call (E911)
Six-way conferencing
Ringtone selection
Set date and time manually or automatically
Built-in dual-band Wi-Fi:

Network standard: IEEE 802.11a/b/g/n
Transmission rate: Up to 433 Mbps (dynamic)
Frequency range: 2.4 GHz/5.0 GHz

Built-in Bluetooth for Bluetooth headset
USB port (2.0 compliant) for:

Wired/wireless USB headset
USB call recording through USB flash drive
Basic functions: Answer/end, call mute

Enhanced DSS key
100 M Ethernet port

Directory

Local phone book—up to 1,000 entries
Block list

Additional calling

Busy Lamp Field (BLF)
Anonymous call, anonymous call rejection
Voicemail
Call park, group call park
Direct and consultative transfer

Display and indicator

7-inch 800 x 480 px capacitive touch screen
LED for call and message waiting indication
Dual-color (red or green) illuminated LEDs for line status information
Intuitive user interface with icons and soft keys
Multilingual user interface
Caller ID with name and number
Customizable "emergency red" wallpapers
Power saving

Feature keys

21 one-touch DSS keys
Seven feature keys: Hold, transfer, message, headset, mute, redial, speakerphone
Volume control keys
Illuminated mute/headset/hands-free speakerphone key

Interface

100 M Ethernet port
1 x USB port (2.0 compliant)
Built-in dual-band 2.4G/5G Wi-Fi
Built-in Bluetooth
1 x security lock port
1 x RJ9 (4P4C) handset port
1 x RJ9 (4P4C) headset port

Network and security

IPv4/IPv6, LLDP/CDP/DHCP VLAN, IP assignment: Static/DHCP
Time and date synchronization using SNTP
SIP v1 (RFC2543), v2 (RFC3261)
UDP/TCP/DNS-SRV (RFC 3263)
QoS: 802.1p, Layer 3 ToS DSCP
AES encryption for configuration file

Other physical features

Color: Classic Grey
Wall-mount bracket (optional)
External Yealink AC adapter: AC 100–240 V input and DC 5 V/2 A output
USB output currency: 5 V 500 mA
Power consumption (PSU): 1.5 W–4.5 W
Dimension (W x D x H x T): 9.86 in x 6.64 in x 6.87 in x 1.75 in

Optional Accessories:

Expansion Module (SKU: EXP50)
DECT Headsets (SKUs: WH62M & WH62D)
Bluetooth Headset (SKUs: BH76BL & BH76GL)
Black Handset (SKU: T67HS)
Red Handset (SKU: T67RHS)
Mounting Bracket (SKU: T67WMB)
PoE Injector (SKU: YLPOE30)

Compliance



Android is a trademark of Google, Inc.

Connect with us on Messenger

Visit Community
24/7 automated phone system: call *611 from your mobile