Due to inactivity, your session will end in approximately 2 minutes. Extend your session by clicking OK below.
Due to inactivity, your session has expired. Please sign in again to continue.
Unbox Your Samsung Galaxy S9 and S9+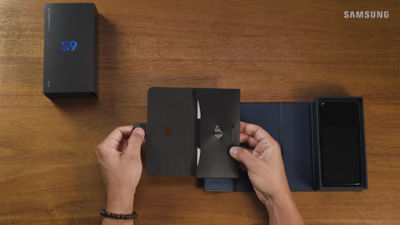 See what's inside the box of the brand new Galaxy S9!
samsung-galaxy-s9-s9plus-unbox-phone-video:

Video Transcript
Unbox Your Samsung Galaxy S9 and S9+ (1:09)
Ok now that we have our Galaxy S9. Let's unbox it and take a look.
This is of course the newest, latest Flagship device for Samsung. So I'm really excited to see what's inside.
Oh we've got this envelope here, and what's inside here.
First of all our Health and Safety Guidelines
And then also the Sim Ejector Tool. Now that is going to be useful for taking out the Sim and SD card.
Of course we have our sleek Galaxy S9 looking Great as ever.
Oh, we have our USB connector and that's going to be really good for Smart Switch, for transferring content from our old device.
So right here, we've got the Adaptive Fast Wall Charger.
Oh let's see, we've got the USB connecting cable now that'll be good for connecting to the fast charger or if you'd like you can also transfer content from the computer.
And we have the AKG headphones, I'm liking those.
What else is in here? Oh and some extra headphone tips. Very cool.
Now that we have our GS9 all unboxed, the next step is to set it up.
© 2023 Samsung Electronics America, Inc. Samsung and Galaxy S are trademarks of Samsung Electronics Co., Ltd.

Connect with us on Messenger

Visit Community
24/7 automated phone system: call *611 from your mobile