On the go guide: 5 everyday accessories for busy parents
There's never a good time to lose connectivity or battery power when running errands or shuttling kids—but these accessories can help.
From running errands and making school pick-ups to on-the-go business calls and early-morning practices, parents depend on their smartphones to get things done. That's saying nothing about keeping the kids entertained from time to time. Between juggling schedules and streaming cartoons, it's only a matter of time before devices run out of juice. That's why reliable car chargers, power packs and wireless car connectivity have become everyday essentials for busy parents. Compact, easy to use, rugged and reliable, these devices have all the key traits that parents need to get through their day more smoothly and safely. And while they're not guaranteed to ward off gridlock in the school parking lot or temper tantrums in the backseat, they stand and deliver when needed.
Here are 5 practical products that can help busy parents stay connected on-the-go.
Verizon HumX Gen 2: Peace of mind on the road.
Want to feel safer on car trips and keep the kids happy? Verizon HumX Gen 2 diagnoses minor car problems, sets maintenance reminders, monitors driver speeds and more. Once installed and wirelessly linked to your smartphone, HumX provides remarkable peace of mind. Got a flat tire? No problem. This device will contact a trained agent for 24/7 Roadside Assistance. Plus, it can even alert emergency responders if the car is involved in an accident. And with its 4G LTE hotspot, everyone in the car can stream music, movies and shows on their connected devices. Taking a trip with the kids? Check out these travel accessories that will surely keep the whole family happily connected no matter where your journey takes you.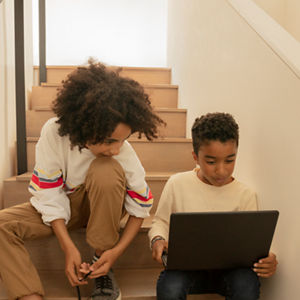 Verizon Car Charger with Dual Ports: Plenty of power to go around.
Need a quick recharge while driving? The Verizon Car Charger with Dual Ports offers the convenience of charging two devices at once, so everyone can keep watching and listening without downtime. The Universal USB-A ports are compatible with most devices and Auto-detect IC technology improves the compatibility with many devices.1
mophie powerstation plus 6000 with Switch-Tip Cable: Unmatched versatility.
Low batteries during soccer games or supermarket runs? Consider a portable charger that's light enough to carry in a large pocket, purse or backpack. The slim mophie powerstation plus 6000 with Switch-Tip Cable uses mophie's exclusive Charge Vault technology to hold a charge for extended periods of time. It comes with a built-in switch-tip cable that charges both Apple and micro USB devices, so there's no need to pack extras. And the powerstation's two USB charging ports make it easy to simultaneously power up two devices in a hurry.
Bose Noise Cancelling Headphones 700.
If you're working remotely from your home office or you just need a little down time with your favorite audio book, Bose Noise Cancelling Headphones 700 can keep you focused on work while the kids have fun in the background. Voice prompts and programmable buttons make it easy to access audio hands-free. And with up to 11 levels of noise cancellation and an adaptive 4-microphone system, business calls can be taken with confidence. 
mophie UV sanitizer with wireless charger.
If your little one depends on your phone for entertainment and games, make sure you keep it protected from germs. mophie UV sanitizer with wireless charger kills most common surface bacteria on your phone without using damaging heat, liquid, or chemicals.1 You can even sanitize other small devices like keys, remote controls and earbuds in just 5 minutes without loud buzzing or fans.2  The PhoneSoap 3 also fits most smartphones and case sizes, so you don't even have to remove your case to keep your phone clean. Plus an acoustic audio amplifier allows you to hear alarms and notifications, so you won't miss a text. 
So whether you're always on the move or winding down after a busy day, Verizon has accessories to make sure your devices keep up with your busy schedule. And learn what tech items your child is ready for based on their age, so you can make sure their growing minds are always properly challenged. Check out a complete parents' guide to kids and tech on our Family Tech page.
1. Tested by 3rd party to ISO testing standards against E. coli and staph. Antibacterial technology is for your phone and other similar devices inserted into the device; it does not directly protect the user from exposure to bacteria or provide additional health benefits.
2. Based on third party testing results using a brand new UV Sanitizer.
This content is provided for information purposes only. All information included herein is subject to change without notice. Verizon is not responsible for any direct or indirect damages, arising from or related to use or reliance of the above content.