How to Choose the Perfect Bluetooth Headphones
Tired of tangled wires getting in the way when you're going out for a run or listening to music? With Bluetooth headphones, you can connect wirelessly without sacrificing sound quality or features. From Samsung Galaxy Buds and Apple AirPods to the highly anticipated Google Pixel Buds 2, you have options. But how do you know which headphones are right for you? Listen up to find out.
Why choose Bluetooth headphones?
Bluetooth technology relies on radio or infrared signals and eliminates the need for a direct plug-in connection from headphones. The lack of wires absolutely equals convenience; you're free to walk around the house (or the office) without being tied down. In addition, Bluetooth headphones aren't device-specific. You can use them with a phone, tablet or smartwatch without worrying about matching jacks. Finally, many Bluetooth headphones offer helpful amenities such as voice activation, and every model continues to improve on sound quality, coverage distance and battery life. 

Bluetooth headphones for the music lover.
To provide rich, balanced sound for music, Bluetooth headphones often blend noise cancelling with powerful bass. In addition, over-ear headsets have larger ear cups for better sound immersion and outside noise cancelling.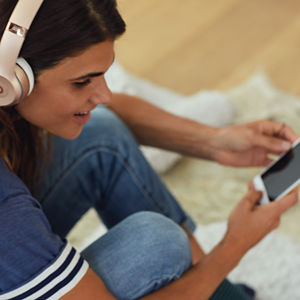 Bluetooth headphones for the traveler or commuter.
Portability and adaptability are key when going from train to airplane to rideshare. Headphones with voice access also mean that you don't have to worry about pushing buttons to issue commands.
Bluetooth headphones for the office.
When you're taking an important call, fumbling with a headset can be a distraction. Work-ready earphones should be convenient and comfortable enough that you can wear them for extended periods of time and large enough that you won't lose them between meetings. 
Bluetooth headphones for the fitness fan.
Comfort and a secure fit are top of mind when you're at maximum sweat level and focusing on the next mile (or the next 5 minutes). Opt for Bluetooth headphones that include several earbud sizes to help you find the right fit.
Bluetooth headphones for the podcast enthusiast.
Because some podcasts are long form, comfort and a hefty battery life are key attributes you should be looking for in your pair of headphones.
Your Bluetooth headphones purchase.
The most important things for any new tech purchase? Try it out for yourself and read reviews. It's important to get a real feel for them so you can make sure your top choices meet your needs and goals. Check out more headphone offerings from Verizon. 

This content is provided for information purposes only. All information included herein is subject to change without notice. Verizon is not responsible for any direct or indirect damages, arising from or related to use or reliance of the above content.