4 great tech ideas for new parents
If you're a new mom or dad, you might find yourself juggling more responsibilities and challenges than expected. Check out these 4 practical accessories that can help keep you going.
1.  Verizon Smart Locator.
Mornings can get busy quick, and the last thing you need is a misplaced bag, or lost car keys slowing you down. Luckily, the Verizon Smart Locator makes keeping track of your must-have objects a breeze. Stay in the know with cellular-connected location tracking for both indoor and outdoor use. The Verizon Smart Locator uses a combination of GPS, Wi-Fi-based positioning and network coverage for pinpoint accuracy when connected to the Verizon Network.¹
Attach it to your child's lunchbox or bike for a worry-free way to keep track of things while you're away.
2. mophie powerstation 8000.
Make the most of your day at the park. Whether you're taking family photos or playing music around the picnic table, it always pays to bring some extra power. Keep your devices charged up with the mophie powerstation 8000, a slim and portable battery that easily slips into jacket pockets or stroller storage pouches. It has two charging ports so no one has to take turns being without power.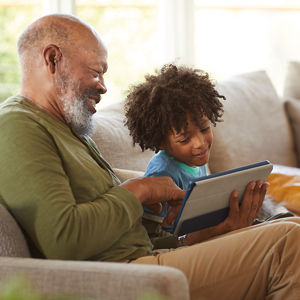 3. Google Nest Hub Max.
Get assistance around the house without ever needing to lift a finger. The Google Nest Hub Max is perfect for managing everyday tasks, such as making hands-free calls2 or hearing what's on your calendar for the day.3  Liven things up by searching for new twists to your kid's favorite dishes. Say, "Hey Google, pull up a recipe for lasagna," or "Hey Google, find Italian restaurants near me." Then get everyone around the dinner table in a flash with a quick broadcasted message. Just use a quick command to project it across every Google Home device in your home.
4. Verizon Hum+ Gen 2.
Whether you're taking a family road trip or driving to the grocery store, the Hum+ Gen 2 helps keep you safe and in control. Prepare for the unexpected with an easy-to-use app for viewing your vehicle's health and detecting issues before they become a problem. Check your vehicle's average speed and monitor your engine's temperature. And should you ever get into an accident, the Hum+ Gen 2 can automatically detect the crash, notify emergency responders and send help to your current location.
The Hum is about more than just safety and peace of mind. Keep the kids entertained in the backseat with fun music, games and movies from their connected devices. The Hum+ Gen 2 supports up to 10 devices via WiFi hotspot, providing a convenient way to access the Internet from your smartphone, tablet and other compatible wireless accessories.
Tech for the entire family.
Find the right tech for you and your loved ones. Verizon carries plenty of great kid-friendly products and smartphones. Visit our Family Tech page to learn more.
Add your  kid's phone to a family-friendly plan that gives you 5 GB of data and simple parental controls for a safer digital experience. Visit Verizon's Just Kids Plan Page to learn more.
1. The location information provided is an approximate location of the device. Verizon does not represent, warrant or guarantee the reliability or accuracy, completeness or timeliness of any location information provided through the service. Device does not have roaming band antennas. It will not work with Verizon Network Extenders, on other carrier networks that do not use Verizon-licensed 4G LTE frequencies, or internationally.
2. To make video calls or send video messages, you need a Google Duo account.
3. Personalized features require additional enrollment and setup.
The above content is provided for information purposes only. All information included herein is subject to change without notice. Verizon is not responsible for any direct or indirect damages, arising from or related to use of or reliance on the above content.