Pick the right fitness bands for the fitness fans on your gift list
If your family or friends are making the commitment to get back into shape, help them meet their goals by giving them a fitness band as a gift. It's perfect for the mom or dad in your life who could use a little extra motivation to keep up the hard work. Discover some key features of the wearable tech spotlighted today to help you match the right gift with the loved one you're shopping for.
Fitness bands for the new fitness lover.
The Fitbit Charge 4 provides features like logging steps taken, calories burned and sleep quality. You can use heart rate tracking to optimize your workouts and uncover health trends to better meet your fitness goals. The app helps identify optimal heart rate zones with Active Zone Minutes and receive tracker feedback when you've reached your target. Plus, calls, texts, calendar reminders and alert notifications appear on the screen so you'll always be in the know, even when out on a run.
In the mood for a post-workout coffee or snack? Make purchases on the go with the in-app wallet that allows you to load with your debit or credit card.
The ActivBody Activ5 Portable Workout Device brings a personal trainer to you. (Perfect the newbie who might be intimidated by a gym.) This portable device and training app creates personalized, 5-minute workouts designed to match your needs and fitness level. The app coaches you through low-impact, isometric workouts that vary from seated, standing or even more advanced options for total body strength training. Get up to 100 workouts based on your strength level and optimize your fitness routine from the comfort of your own home.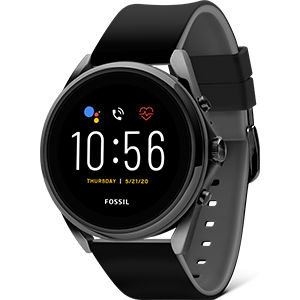 A smartwatch for the tech-enthusiast fitness lover.
Does the fitness lover in your life want a stylish smartwatch full of tech-forward features? The Fossil Gen 5 LTE lets you go from classic to chic with just a swipe. The touchscreen display is easy to navigate, whether you're tracking steps or streaming your favorite music. Make and take calls, send messages and receive notifications and news right on the smartwatch, all without your phone. You can even customize the settings with Smart Battery Modes for optimal battery usage, so your watch is connected when you want it to be.
Wearable tech for the multi-faceted exerciser.
Add some variety to your fitness routine with 20+ exercise modes to choose from on the Fitbit Inspire 2. SmartTrack automatically recognizes and records your exercise as you begin, so no fumbling through apps or trying to find the right activity. And when you're not working out, the Inspire 2 tracks your light, deep and REM sleep patterns and provides tips for better sleep quality. 
No day is complete without some mindful meditation, and the Inspire 2 can help with that as well. Guided breathing sessions and other personalized features help keep things calm and focused, whether it's part of your daily routine or a go-to stress relief aid.
A smartwatch for committed exercisers.
The Samsung Galaxy Watch3 will complement any lifestyle. Whether you're headed out to a nicer dinner or going for a workout, the Galaxy Watch3 comes in 2 sizes, 3 finishes, and more than 50,000 watch faces.1 The interchangeable leather bands let you go from sporty to sophisticated in a snap. Call, text, stream music and pay right from your wrist. Track your latest fitness routine, monitor your wellness and set new personal bests with health monitoring. 
Fitness gifts and more accessories.
Check out these products and all of the accessories deals throughout the year at Verizon to find great gifts for everyone on your list.
1. Not all combinations are available for every watch face. Supported on Android. Not supported on iOS.
The above content is provided for information purposes only. All information included herein is subject to change without notice. Verizon is not responsible for any direct or indirect damages, arising from or related to use of or reliance on the above content.