Popular Cell Phone Accessories You Can't Live Without
From offering protection when things get a little bumpy to helping you reach your fitness goals, these cell phone accessories will help you get the most out of your device.
You can always count on your smartphone for work, play or enhancing your fitness routine. Try picturing your life without one. Hard, isn't it? But now you can get  more out of your able assistant with some of the coolest and smartest cell phone accessories on the market—you might even find that you can't live without them. Plus, many accessories are eligible for free shipping from verizon.com.

Smartphone cases, covers and holsters.
You value your smartphone, so it's important to keep it safe from life's bumps and scrapes. The right case or cover can add some pizzazz and show off your style.If you love outdoor adventures, prefer to go off the beaten path, work in rugged environments or just have curious toddlers, OtterBox® Defender Series® cases protect your valuable device by offering three layers of protection against drops, bumps and shock. The outer layer is made with impact-absorbing silicone while a built-in screen protector guards against scratches. The polycarbonate inner layer includes cushioning foam for even more protection. The holster-style swiveling belt clip will also keep your device handy.
Case-Mate Folio covers blend style and protection and are available for many different smartphone brands and models.  You can easily  store your cash, credit cards and ID in the slots, making this the perfect accessory for daily use. These covers include soft microsuede lining and an interchangeable hard-shell case, suitable for business, travel or a night out on the town.
Get a grip—literally—with a Verizon Shell & Holster Combo Case. The flexible and durable case includes rubberized material, making it easier to, well, grip. You can also easily keep it within arm's reach with a clip that pivots 180 degrees,  attaching it to a belt or purse strap. When it's time to relax, use the kickstand in the back to prop up  your phone to easily watch your favorite movie or video chat with a friend.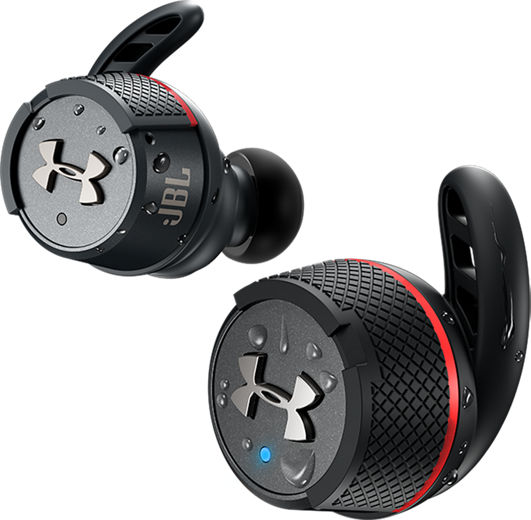 Wired headsets for easy listening.
Cradling your phone while taking a call is not only frustrating but doesn't feel good for your neck and shoulders. . Instead, invest in a  hands-free headset.  Enjoy convenience and quality with the Beats urBeats3 Earphones with 3.5mm Audio Plug. These headsets feature built-in controls and an in-line microphone
Bluetooth® accessories to pair with your phone.
When it comes to convenience, nothing beats Bluetooth technology. Speak and hear more clearly in noisy places, listen to your favorite tunes without dealing with tangled wires or free up your hands so you can chat while cooking dinner. 
Getting pumped up at the gym and listening to your favorite songs go hand in hand. The sweatproof JBL UA True Wireless Flash In-Ear Headphones can handle even your most demanding workouts. With a secure fit designed for comfort and performance, you won't have to worry about losing your headphones half-way through your workout. The Sport Flex Fit ear tips have pliable winged tips that are easy to slip into your ear and stays locked in place.Need to be better heard or vice versa? The LG TONE Style HBS-SL6S reduces noise and is equipped with an external speaker for hands-free listening. The ultra-slim, lightweight neckband is comfortable to wear whether you're taking a call from the car or cranking up the tunes on your morning run. 
Smartphone charging accessories.
With these convenient charging accessories,  your smartphone will stay powered up at home or on the go.
The mophie powerstation USB-C 3XL is a portable power station that packs a powerful 26,000 mAh battery and holds up to 19 hours of extra battery life.1 Dual USB-C and USB-A ports allow you to charge 2 devices at once to save time and work efficiently. It can even charge a laptop efficiently with up to 45W power delivery. 
Accessories to keep you fit.
Follow your health and fitness goals this year with the Fitbit Charge 4.  The intuitive touchscreen display makes it easy to see your stats, no matter the lighting conditions. All-day activity tracking gathers the data you need to optimize workouts and reach your goals. Keep an eye on your steps, calories burned, sleep, heart rate and more..
Try out some of these popular smartphone  accessories to take advantage of the convenience and efficiency they offer.
1. Extra battery estimates based on comparisons with mAh battery capacities of common consumer electronic devices. The amount of extra battery you receive depends on a variety of factors that are different for every user.

This content is provided for information purposes only. All information included herein is subject to change without notice. Verizon is not responsible for any direct or indirect damages, arising from or related to use or reliance of the above content.