Due to inactivity, your session will end in approximately 2 minutes. Extend your session by clicking OK below.
Due to inactivity, your session has expired. Please sign in again to continue.
Verizon Smart Family™ web & app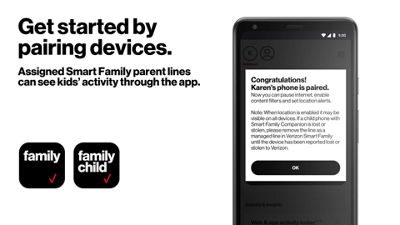 See how your kids spend their time online with Verizon Smart Family. Check out how!
verizon-smart-family-web-app-video:

Video Transcript
Verizon Smart Family™ web & app (1:06)
Verizon Smart Family is your partner in parenting.

You can parent smarter in the digital age by keeping an eye on your kids' web and online app activity.

To see how they spend their time online, pair the Verizon Smart Family app on your phone with the Companion app on your child's phone.

Once they're paired, anyone with an assigned parent line on your Smart Family account will have access to your child's usage through the Smart Family app.

View all their daily web and online app activity at a glance using the Web and Activity chart. This makes it easy to see how your kids are spending their time online, even when they're using a Wi-Fi connection.

You can also get a more detailed view with a daily count, along with a breakdown of the apps and specific sites in each category. From social media or messaging to games or entertainment, you'll have a better idea of the kind of content they're viewing on their devices.

To compare current usage with prior days, simply scroll through past dates.

Just remember that Smart Family can't show how much they're using apps that run offline.

Visit the Smart Family page to learn about all the other tools that help you parent smarter.

Connect with us on Messenger

Visit Community
24/7 automated phone system: call *611 from your mobile