Your wireless plan travels
just like you with unlimited data*, talk and text.
$10/day in 210+ countries and destinations.
To add TravelPass, text the
word TRAVEL to 4004 or

click here
With TravelPass
Get unlimited talk text and data* in 210+ countries and destinations.

Once added, you'll only be charged on the days you send or receive a call, send texts or use data on your device while abroad, so there's no need to remove it when you return.
TravelPass can be used in 210+ countries and destinations.
If you choose not to add TravelPass or travel to a country not included in TravelPass you'll be charged Pay as You Go rates.
TravelPass
$10 /line per day.
Plus taxes and fees.
$5/line in Canada and Mexico.
Roaming in Canada and Mexico is included with Unlimited Plus, Unlimited Welcome, and other Unlimited plans.
Add a plan
What's included:
Unlimited data
Unlimited calls
Unlimited texts
*After the first 2GB of daily session enjoy unlimited 3G data. You can purchase additional high speed data for the remainder of your session.

World device is required. Must be on a qualifying plan.
Find the best plan for your
international trip.
Get 2 free TravelPass days per year when you sign up to the Verizon Visa Credit Card.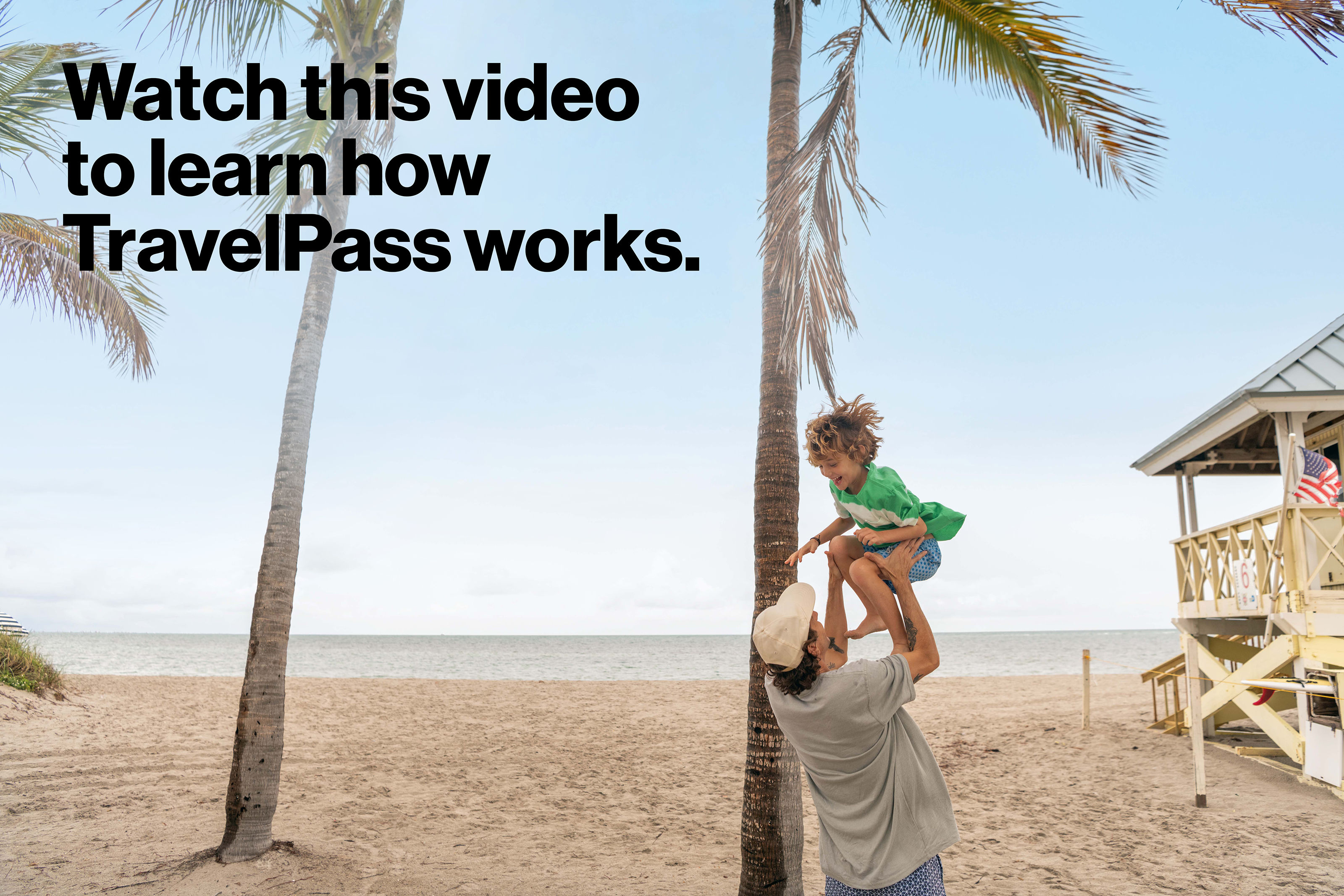 Have questions?
We've got answers.
How does TravelPass work and when will I be charged for it?

Here's how TravelPass works. After you add TravelPass to your mobile phone line:

A 24-hour TravelPass session starts automatically when you use your phone in a TravelPass country (e.g., make or answer a phone call, send a text or use data).
You're only charged for the days that you use your device in the TravelPass country.

Note:

You must turn on cellular data or data roaming when you go to the TravelPass country.
When cellular data or data roaming is turned on, a TravelPass session can be started by background data, including:

App content refreshing (e.g., Weather apps, Fitness Tracker)
Syncing (e.g., email)
Device or app software updates

2 hours after the session starts we send you a text letting you know when your 24-hour TravelPass session ends. Using your device after that session starts a new session.
Which countries can I call with TravelPass?

With TravelPass, you can call within the country you're visiting and you can call back to the US.

If you want to call a different country, add an International Long Distance Plan to your line in My Verizon website or the My Verizon app.

If you don't add an international long distance plan you'll be charged international long distance pay per minute rates for these calls.
Can I use Wi-Fi calling with TravelPass?

Wi-Fi calling isn't included with TravelPass. Wi-Fi calling to a country other than the US is charged international long distance rates regardless of whether or not you have an international travel plan.
Do I have to opt in every day to use TravelPass?

No, you don't need to opt in every day. Add TravelPass once and it stays on your line so you're all set for your next trip. You're only charged for the days that you use your device in a TravelPass country. There's no charge when you're in the US.
More about
International travel
Check available services and
pricing by country.
See our worldwide service
coverage map for data, voice and
messaging services.
International services support
While in the US: (800) 711-8300
Travelling outside the US: 1 (908) 559-4899
If your device is lost, stolen or broken, or you experience a device issue while you are traveling outside the US, please use the below
instructions to reach the International Support Team from a landline phone:
1. Dial your country's toll-free number
2. Enter your 10-digit mobile number when prompted by the International Hotline
If a toll-free number is not available for the country you are in, please dial (908) 559-4899 (toll charges will apply).