How to stream movies on your TV
For entertainment when you're out, as well as entertainment at home, the ability to stream movies is hard to beat. Here's how:

The digital age has afforded us many opportunities to connect, and not just with friends and family—with the various media we love, all from the comfort of our homes. Be it from our smartphones, tablets and now our televisions, there are a few easy options to stream movies, making a night in with the family more fun than ever.
How to connect (and stay connected).
Before you can stream anything, you need to get the proper hardware, such as a router, an Internet-connected device (suggestions below) and a high-speed Internet connection. To take full advantage of ever-improving high-definition, or HD technology, the faster the connection, the better. For a fast 4G LTE connection at home, consider LTE Internet (Installed), so long as you have a plan with at least 10 GB of data.
If you have a wireless router set up in your home, things will be a little easier from the start. Should your Internet setup at home require a physical connection to your hardware, you'll need a good length Ethernet cable.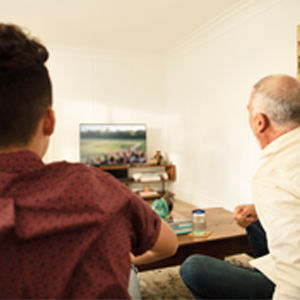 You're finally connected, so what's next?
There are several Internet-connected devices that will allow you to stream movies straight to your TV, for every type of entertainment consumer.
For avid gamers, the Xbox 360 is a ready-made entertainment powerhouse. Android owners can also take advantage of added connectivity with an Xbox using the SmartGlass app.
If you're looking for an all-in-one experience, Samsung's latest and greatest Smart TVs come in various screen sizes and prices, each with the unique, connected Samsung experience. With high-screen resolution, a suite of built-in apps and wireless Internet connection, Samsung Smart TVs are the ultimate in viewing entertainment.
If you're not in the market for a new TV, grab one of Samsung's Internet-connected Blu-ray Players.
Entertainment, your way.
With an Internet connection and an Xbox 360 or Samsung Smart TV, there are infinite ways to entertain not just yourself, but your family and friends as well. From the comfort of your own living room, you can make it happen any way you want. Take your movie-viewing experience up a notch. Shop Verizon products and services to create the ultimate at-home theater. 
This content is provided for information purposes only. All information included herein is subject to change without notice. Verizon is not responsible for any direct or indirect damages, arising from or related to use or reliance of the above content.