7 smartphone features you'll want
The release of new smartphones by each major manufacturer has become an annual cause for celebration. While the exact specs of new phones such as the rumored iPhone 12 are a closely guarded secret, one thing is certain: features keep expanding. From foldability to super-fancy cameras, here's what you can already find on a few phones and what you're likely to see with any new options. 
Screens will keep getting bigger.
There are lots of reasons to love a bigger smartphone screen. You can enlarge fonts, for example, to boost readability or simply maximize the viewing area while gaming or watching a movie. Fortunately, increased screen size is becoming a standard feature on smartphones; the result is a viewing area that's not quite the size of a tablet (and is often referred to as a "phablet").
Phones to look for: Check out the latest Samsung phones. Both the Galaxy S20 Ultra 5G and the Galaxy Note20 Ultra 5G have 6.9-inch displays. Or the iPhone 11 Pro Max 6.5-inch screen. (Read this article to compare more iPhones.)
Wireless charging makes everyone's life a little easier.

Forgetting a plug or forgetting a cord is a common problem for smartphone users. Luckily, the increased availability of wireless charging will change that in the not-too-distant future. Wireless charging technology makes it easy to juice up your phone without digging around for a charging cable or unplugging your headphones. 
Phones to look for: The Samsung Galaxy S20 series and the Google Pixel 4 both feature it, as do a handful of other popular phones. Plus both phones come with power management features to improve battery life based on your actual usage habits.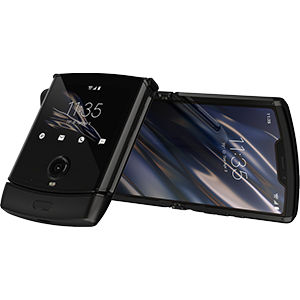 Designs will trim bezels.
To maximize phone displays, designers have begun to remove the bezel, or border, from certain smartphones. This means a larger viewing area and a sleek, seamless design.
Phones to look for: The OnePlus 8 is one current example of a nearly bezel-less phone, sporting an immersive 6.55-inch screen.
Folding phones are a thing.

More than just a quirky gimmick, foldable phones make it possible to have the best of both worlds: a big screen and a pocket-size, ultra-portable device. Featuring super-thin glass and flexible plastic, these phones bring the convenience of flip phones into a new era.
Phones to look for: Check out the Samsung Galaxy Z Flip and the Motorola razr. Both offer day-long battery life and unfold to over 6 inches of high-def viewing.
Cameras keep adding advanced functions.

It's easy to take for granted just how good smartphone cameras have gotten. And with many devices now equipped with multiple cameras, photo-taking and movie-making options continue to improve. Having multiple cameras allows the phone to create a sense of depth, improve the ability to focus accurately and even open up opportunities for features such as background blur and 3D augmented reality.
Phones to look for: These days, it's rare to find a smartphone with just one camera, but to get the full multi-camera experience, try the iPhone 11 Pro and the Samsung Galaxy S20+ 5G. And watch for the expected iPhone 12 release date — this phone may include a triple-lens camera.
5G options will increase.

While 5G networks1 — the next generation of mobile broadband — have yet to reach every major city, this cutting-edge tech may already be available to you. To take full advantage, you'll need a 5G-capable phone. Once equipped, you'll have access to exponentially faster download and upload speeds as well as quicker communication with cellular networks. Read more to learn how 5G is different.  
Phones to look for: The list of 5G-capable phones continues to grow, but for now take a look at the Samsung Galaxy S10 5G, the Galaxy Note10+ 5G, the moto z4 and the LG V60 ThinQ 5G UW. 
Phone sizes may get smaller.

Lots of smartphones are getting bigger, but some are taking the opposite approach. These micro-like phones fit easily in your palm or the smallest of jeans pockets. 
Phones to look for: In addition to the iPhone SE, the release of one model of the rumored iPhone 12 is expected to be a smallish 5.4 inches. 
New phone features give you more choice.
There's a lot to look forward to in smartphone design and functionality. Get ready to do more with this essential piece of personal tech. To explore current deals on the latest smartphones, click here.
1. 5G Ultra Wideband access requires a 5G-capable device in the 5G coverage area. 5G Ultra Wideband available only in parts of select cities; see vzw.com for 5G Ultra Wideband availability.
This content is provided for information purposes only. All information included herein is subject to change without notice. Verizon is not responsible for any direct or indirect damages, arising from or related to use or reliance of the above content.