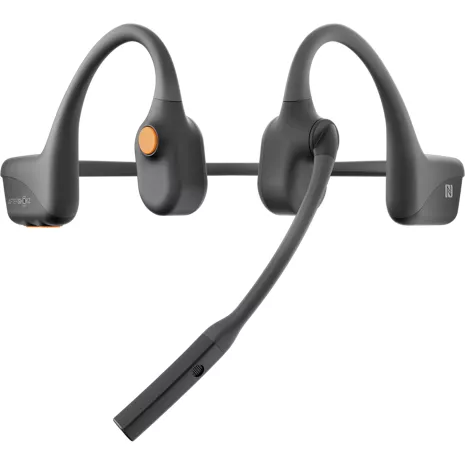 Overview tab selected 1 of 4
Overview Section Start
Enjoy high-quality audio while on the go with the OpenComm Bone Conduction Stereo Bluetooth Headset. These NFC Bluetooth® headphones have an open ear design for comfortable, all-day wear. The titanium fit creates a flexible design that sits comfortably on your head. The noise-canceling boom mic eliminates background noise for clear calls, even in loud environments. The multifunction button helps you easily control your headphones whether you're skipping songs, activating your voice assistant or answering calls. And, it's IP55 water-resistant design keeps out dust and moisture.²

High-quality audio.
Engineered with 7th generation, bone conduction technology, this headset delivers high-quality audio and keeps you connected.

Plenty of talk time.
OpenComm Bone Conduction Stereo Bluetooth Headset holds up to 16 hours of battery life on a single charge, letting you move through your day easily without worrying about your battery. And, you can get up to 2 hours of talk time with a 5-minute charge.¹

¹Battery life and charge cycles vary with use, settings, and other factors; actual results will vary.
²IP55-rated. Protection against limited dust ingress and from low-pressure water jets from any direction.
Reviews
88% of reviewers recommend this product.
Follow Up Review
Yes, I'd recommend this product.
This is a follow up review on this product from an earlier one I done about 6 months ago. I originally purchased this headset on March 14, 2021. I got the headphones and started using them right away and as I mentioned in my previous review they have been a blessing to me. I wear them all the time almost 24/7, followed all of the manual directions regarding charging (when to charge and don't leave them on charge overnight). Anyway, yesterday Sunday 8/7/2022, after charging from a drained situation, they finally broke. I could not get them to turn on by holding down the volume + button. I cleaned the charging port to ensure that it was not dirty and tried to recharge, got the blue light saying it is done, and still nothing. By this time, I knew that there was a problem. I went online and filled out the warranty claim form (2 year factory warranty replacement) and submitted it. Within 3 hours I received confirmation that I would be getting a new pair in the mail within 4 to 5 days, no questions asked. The process was seamless and deserves noting that the company stands behind their product fully. Note: You will need to keep your receipt if possible, the serial # card that comes with the head set, and know the date of purchase to submit a claim. I also went back online with Verizon and ordered a second pair just to ensure I never have to go without them again. I would strongly recomend buying this product as the quality, customer service (both Verizon and After Shokz), and ease of use regarding the product all have been exceptional. This is a great buy, great price, and comes with exceptional customer service that has far exceeded my expectations. I will never go without a pair of After Shokz Open Comm headsets.
Battery life nowhere near what's claimed
Yes, I'd recommend this product.
Extremely comfortable, excellent noise canceling, I cam be in my truck with the window down at highway speed and the person on the other end can't hear any noise. Only downfall is talk time is only about 6 hours with little or no warning before they shut off due to low battery.