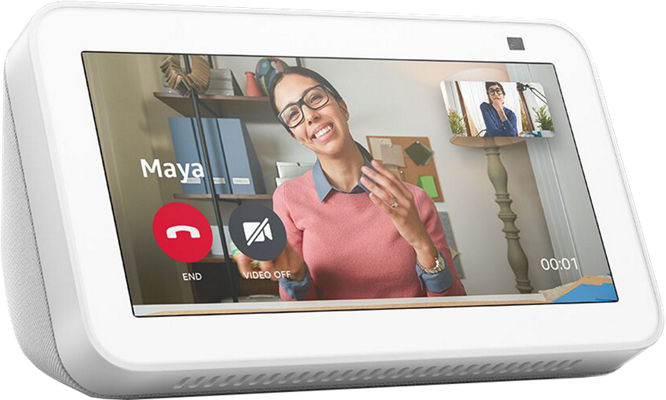 Manage your day-to-day with the Echo Show 5 (2nd Gen) with Smart display, Alexa and 2 MP Camera. This 5.5-inch compact smart display with Alexa and a built-in camera allows you to manage your smart home with just your voice. Make video calls with the 2MP camera, or check-in at home while you're away during the day. Multiple layers of privacy controls keep you safe, including a mic/camera off button and a built-in camera shutter. And, it's simple to set up and easy to use.

Make other nightstands jealous.
Wake up with lights that simulate the sunrise and an alarm playing your favorite song. Check your calendar or the news, catch up on your favorite podcast and more. And, you can check things that bump in the night by asking Alexa to show you your security feed.

Enjoy a smarter home.
Pair with other Alexa-compatible smart home devices like light bulbs, thermostats and more. Securely access the built-in camera to check in at home. And, create routines to do multiple things when you issue a command, on a schedule or walk into the room.

Stay in the loop with Alexa.
Make hands-free video calls to friends and family with the Alexa app or compatible Alexa devices. Make announcements to other compatible devices throughout your home to round up the family. Or, use Drop In as an intercom between rooms.

So many ways to be entertained.
Catch up on news and sports highlights as you move through the day. Ask Alexa for tomorrow's weather while planning out your wardrobe. And, stream your favorite TV shows, movies, music and more with apps like Prime Video, Netflix, Apple Music and Spotify.
Reviews
44 reviews
of reviewers recommend this product.
Use it all the time now!
Dean in Laguna Beach · 9 months ago
Yes, I'd recommend this product.
[This review was collected as part of a promotion.] I got this echo show to basically use as a simple clock next to my bed. But it does so much more! Yes…It will wake me up to my favorite song in the morning! Afterward, I will ask it to give me the news. Later in the afternoon, it will lead me into a guided meditation to alleviate my stress. That night, I can watch my Netflix shows on it. And then later, I can pick a soothing sound to go to sleep by. One night it was a jungle rain shower that lulled me to sleep. The next night it was ocean waves. In between it doing all those things, It runs through pictures of my family which makes me smile. I don't know what I'd do without it now. Highly suggest buying this! PS….you can turn off it's cameras and microphone if you don't want it "snooping" on you all the time!