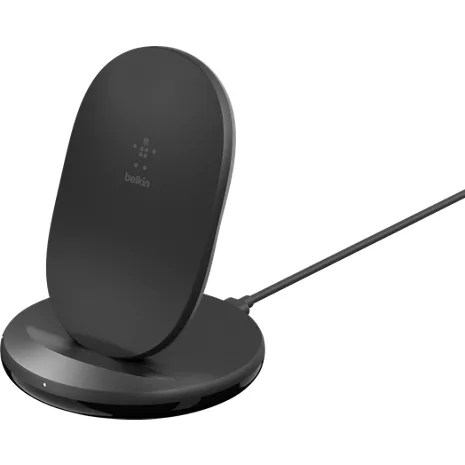 Keep your devices fully charged with the BOOST UP CHARGE Wireless Charging Stand 15W. Charge your Qi-enabled device quickly with up to 15W of charging power. This slim charging stand fits neatly on a table or desk while reducing clutter by not needing any charging cables. Charge in both portrait and landscape mode so you can continue to use your phone while charging. The non-slip surface keeps your phone safely in place, while the LED light indicates that your phone is charging properly. And, it charges through most lightweight cases up to 3mm thick, so you don t have to remove your case to charge your phone.
Reviews
64% of reviewers recommend this product.
Great Product sssss
Love this. Perfect. Gets the job done!
won't charge iphone 13 with any case sssss
Gothegunners . 2 months ago
Wasted my money on this charger - and various cases. Won't charge for more than a few seconds. Rubbish.
Customer Support - 18 days ago
Hi Gothegunners, We hear you. This Belkin Wireless Charging Stands charges through most lightweight cases and engineered to work with lightweight plastic cases of up to 3 mm thick. Let's have our phone support be in touch with you so they can provide real time solution. Just contact them through the hotline number found here: https://www.belkin.com/support-article/?articleNum=55022 Regards, Marie Belkin Support