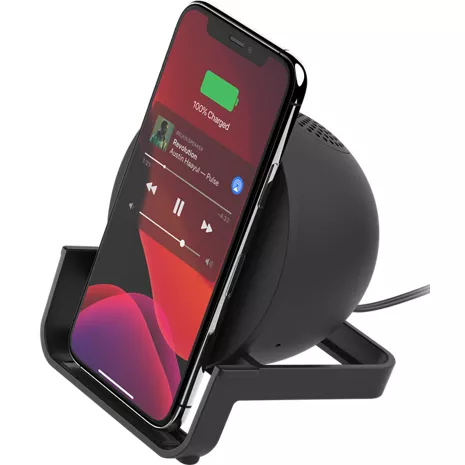 Keep your device fully charged with the BOOST UP CHARGE Wireless Charging Stand + Speaker. This compact design fits perfectly on a desk so you can charge your phone while listening to music and taking calls. The built-in Bluetooth® speaker for playing music or streaming movies, and 1-touch pairing makes connecting easy. And, it s compatible with most lightweight plastic cases, so you don t need to remove your case to charge.

Optimized charging.
Wirelessly charge your Qi-compatible device in both portrait and landscape mode. And, the charging stand is optimized for iPhone, Samsung, LG, Sony and Google smartphones.
Reviews
20% of reviewers recommend this product.
Sounds good! sssss
Compact and decent sound. Once I spent the 20 minutes searching for directions to get to actually connect to my phone, it was perfect. How hard is it to include simple instructions that tell you to hold the button down for at least three seconds, or it won't pair? Oh, and to press the button again to disconnect. This is not obvious just by looking at the thing, and honestly I was close to packing it up and sending it back because Belkin's website didn't have instructions either. Quite frustrating.