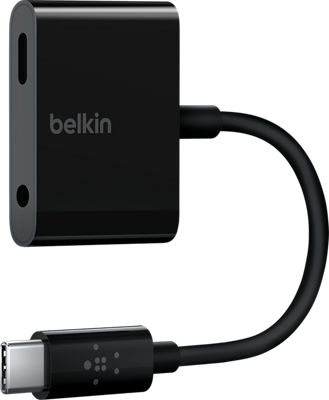 Power up and rock out with Belkin's RockStar 3.5mm Audio + USB-C Charge Adapter. Equipped with a 3.5mm aux port and a USB-C port to quickly charge your device and enjoy superior audio at the same time. For those who are loyal to 3.5mm headphones and speakers this adapter will be increasingly essential as smartphone technology phases out the 3.5mm jack. The RockStar is USB-PD and Quick Charge 2.0 compatible for lightning-fast charging.* Enjoy crystal clear audio, free from static or unwanted interruptions with this digital-to-analog converter.

*Charging rates and times may vary based on charger used.
Reviews
16 reviews
of reviewers recommend this product.
Great for cell phone with no regular headphone jack spot
Yes, I'd recommend this product.
Although I wish my Samsung cell phone had a normal hole for headphones so I would not be forced to buy this to use a headphone with my upgraded phone, it worked gfreat.
Only one thing that I can't overcome...
Frustrated listener · 2 months ago
Yes, I'd recommend this product.
The unit works exactly as it is suppose to. It charges and plays music thru the input jack. However with this set up the phone reads it as a wired headphone jack with mic. SO if I am listening to music and the phone is in my dash holder going down the road at 70 mph. When the phone rings I have to UNPLUG the unit to be able to use handsfree bluetooth or speaker phone. I can hear the caller over the radio but they can't hear me as the audio input is just audio no mic. It is very frustrating. Once I connect to the caller I can go in to settings and switch to bluetooth but by the time I do that they have hung up because they can't hear me.