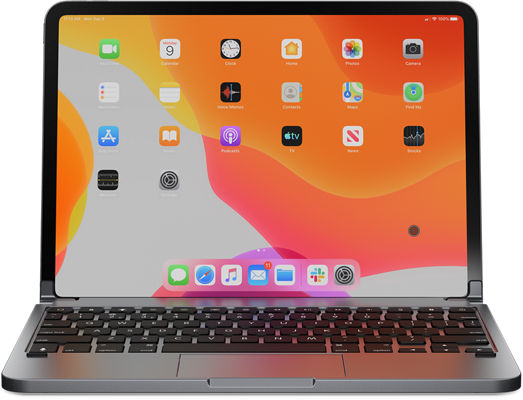 Turn your iPad Pro into an easily adaptable workstation with the Pro+ Wireless Keyboard with Trackpad. Adjust the hinge up to 180-degrees to find the best angles for work, watching videos and playing games. Don't worry about losing power get up to 3-months of battery life on a single charge.* Connect to your device via Bluetooth® technology for a lag-free typing experience.

Use with ease.
Equipped with a full QWERTY keyboard and integrated trackpad that utilizes the iPadOS's Assistive Touch features, you'll forget you're not working on a laptop. Three levels of backlighting make navigating the keyboard easy even in lowlight conditions.

Immersive design.
The Pro+ Wireless Keyboard matches the Apple 11-inch iPad Pro (2020) in design, color and quality, creating a cohesive look. The snap-on magnetic cover protects the back from damaging dents and scratches.

*Usage based on average user profile. Results may vary.
Reviews
546 reviews
of reviewers recommend this product.
Buy apple
Richard R. · 2 months ago
Don't waste your time, poor customer service, subpar product for the cost.
Well engineered, with one flaw
I like this keyboard a lot. Well constructed, and solid feel. The keys are backlit when needed, and the addition of some function keys at the top are better than the competing Apple Magic Keyboard (at three times the price). The keyboard has a nice positive feel, and my only gripe with the keys is that it's easy to accidentally type a period and get a capitalized letter as if you were hitting the space bar twice. The one thing that I liked over the Magic Keyboard is the range of tilt that the Brydge has. As a taller person, the MK doesn't let me tilt the iPad back far enough to get a good view. The Brydge does allow a full range of tilt (180°) but as it gets further back, the weight of the iPad causes it to fall flat on the desk. The hinges aren't quite strong enough to support the full weight of the iPad it's designed for. Other than that, I like it.