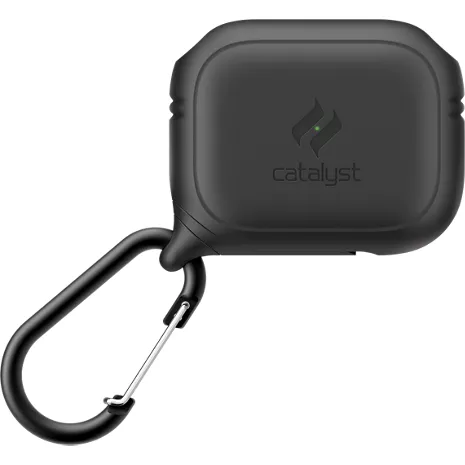 This item is currently only available for Express Pickup. 
Select a store to continue.
Free returns within 30 days.Details
Overview tab selected 1 of 4
Overview Section Start
The Waterproof Case from Catalyst keeps your AirPods Pro safe from the elements. Designed with high-quality materials, this waterproof case is IP67 rated and can be immersed in water up to 3.3 feet.* The Catalyst Waterproof Case will safeguard your AirPods from accidental drop up to 4 feet and help keep your Pros looking like new.† And the attached carabiner clip easily attaches to a backpack, pants loop or bag. Wireless charge compatible, so you can power up without having to remove the case.

*IP67 waterproof rating. Can be immersed in water up to 1m for up to 30 minutes.
†Based on independent testing.
Reviews
100% of reviewers recommend this product.
Better than expected! Great case! Recommend!
Yes, I'd recommend this product.
When I first saw this case I wasn't sure I would like it because of the opening on top, but the AirPods Pro case fits so snuggly that they won't fall out! The sides roll up over the lid so it won't open up accidentally and loose the pods. The outside of the case is non-slip which was a nice surprise and it truly feels sturdy in my hand so I am not afraid to drop it. The sides roll down easily to access the pods, and holds the case secured so it won't fall out when opened. Can't rate if it is waterproof, as I don't want to test it. I don't like how the clip holds the top of the pods to face downwards when clipped to a belt loop, but I guess that will test over time how well the pods will stay in. Overall, I am really impressed with this case. It is way better than I expected. So glad that my pods are secure! Highly recommend!
I am Really impressed
Yes, I'd recommend this product.
Hi I'm Michael and me and my friend bought AirPod pros a week 4 days ago we bought this AirPods case and the next day we were running for a jog outside and he accidentally dropped them and they completely survived no scratches no nothing not a bit I am Genuinely Surprised About this product I recommend this type of case Thank you!