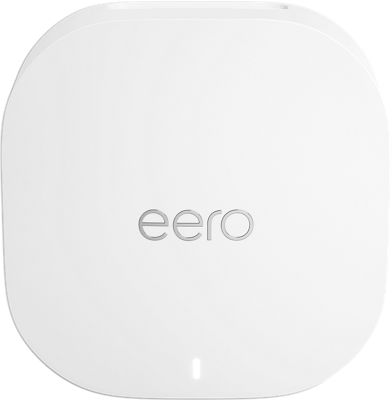 Make sure all your Wi-Fi devices are running smoothly with the Dual-band Wi-Fi 6. This high-speed router supports Wi-Fi for up to 75 devices at the same time. TrueMesh technology routes traffic in ways that help optimize your connection, regardless of the heavy load. And, with cross-compatible hardware, you can easily add eero products as your needs change.

Go further with the app.
The eero app is here to help. It easily walks you through the setup of your router in minutes and lets you manage your network from your phone, as well as allowing for automatic updates to keep your network secure.

Smart home hub.
The built-in Zigbee smart home hub allows you to connect your compatible devices with Alexa. No need to buy separate hubs for each device.
Reviews
31 reviews
of reviewers recommend this product.
Easy to set up and use, reliable
blaircerny · 4 months ago
Yes, I'd recommend this product.
I bought this in order to expand the maximum device capacity of my combo router/modem. It works very well, it's very reliable and fast, and after a recent power outage it came back online much faster than other routers I've used in the past. I have not added any extenders yet so I don't know about the mesh network capabilities; but by itself this is a great product which I'd recommend to anyone.
Great
Yes, I'd recommend this product.
[This review was collected as part of a promotion.] The router required an App to set up which was easy to install, I just plugged an ethernet from my modem into the "hub" box and went through the app to get it set up. Then I was able place the extenders around my house to enable better coverage to those far away corners. It works well and was simple to get running. It allowed me to add an extender into my garage to provide better WiFi to a camera that was almost too far away from my original router. The only note I would say is that some of these extenders come with Ethernet ports on the extender and these do not have those, but as far as a wifi extender these work great.