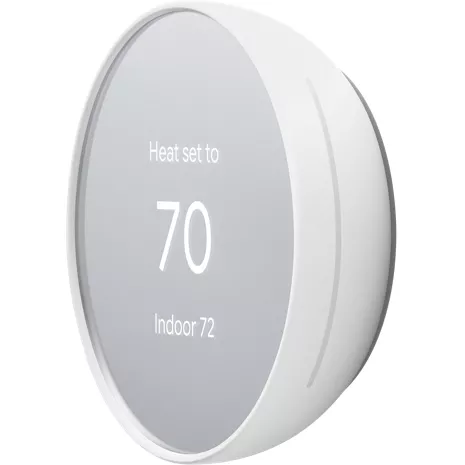 This item is currently only available for Express Pickup. 
Select a store to continue.
Overview tab selected 1 of 4
Overview Section Start
Meet the Nest Thermostat, the helpful thermostat. It can turn itself down to save energy when you leave the house. You can control it from anywhere with a network connection with the Google Home app whether you're on an errand or on vacation. You can even change the temperature without getting off the couch or out of bed. Just say, Hey Google, turn up the heat. 1 The Nest Thermostat looks out for your heating or cooling system. If something doesn't seem right, it can send an alert. And it's easy to install yourself, usually in 30 minutes or less.

So many ways to save.
The Nest Thermostat helps you save energy. It can turn itself down when you leave the house, so you don't waste energy heating or cooling an empty home. Right from the start, it helps you create an energy-efficient schedule. And with Savings Finder, it looks for ways to help you save even more.

Control from anywhere.
With the Google Home app, you can control the Nest Thermostat from wherever you are whether you're on the couch or away from home.2 Change the temperature, adjust your schedule, check your settings, and more. Or ask Google to change the temperature just say, Hey Google, turn up the heat. 3

Heating and cooling system care.
Your thermostat can monitor your heating and cooling system and alert you if something doesn't seem right.4 It can also send helpful reminders, like when it's time to replace your filter. And you can book time with a qualified pro right from an alert or reminder.

Easy to install and use.
It's designed so you can install it yourself. Installation usually takes 30 minutes or less. Or you can get help from a Nest Pro. As you set up your new Nest Thermostat, you can also quickly create a schedule that's right for you. To change the temperature, just swipe the touch bar on the side or use the Google Home app from anywhere.

1. Voice control with Google Assistant requires a compatible smart device.

2. Remote control and mobile notifications require working internet and Wi-Fi.

3. Compatible devices required.

4. We provide alerts to notify you of a potential issue with your HVAC system. Our goal is to provide helpful information, but we make no endorsement, representation, or warranty of any kind about the health of your HVAC system. Alerts aren't intended to replace a diagnosis by a qualified HVAC professional.
Reviews
66% of reviewers recommend this product.
No good for 2-wire heat systems even with adapter.
Won't work on 2-wire heat systems even with the adapter. Don't even try, buy the NEST "E"
Nest thermostat
Yes, I'd recommend this product.
Compact but very efficient