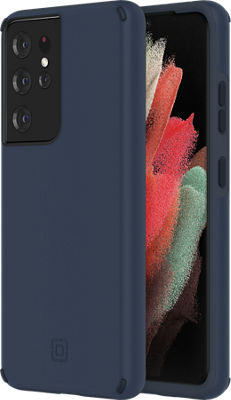 Protect your phone from drops, bumps and dings with the Duo Case for Samsung Galaxy S21 Ultra. This sturdy 2-piece case features Incipio's new Impact Strut technology and a 0.7 millimeter raised face-bezel, to provide up to 12 feet of drop protection.¹ The soft-touch and scratch-resistant design keeps your case looking newer, longer and avoids discoloration. The built-in antibacterial treatment reduces bacteria that promote stains and odors by up to 99%. And it's wireless charging compatible, so your case won't interfere with your service or with charging your phone.

¹Based on independent testing.
Reviews
5 reviews
of reviewers recommend this product.
Great phone case
Yes, I'd recommend this product.
Let me tell you about my incredible incident today. So I'm sitting in the bathroom, right, and this bug starts buzzing around my face. My left arm is in a sling, so I'm just spitting air to get this thing away while catching up on my daily Facebook memes. Then I realise this thing is a big mosquito, ok? And I verbally shout oh hull no.. not getting malaria on the dang toilet today, yo. So I start swatting the air like a drunk one armed ninja. It taunts me repeatedly by flying at my nose, causing me to jump back and smash into the back of the toilet ok. Then I see it land on the wall, I go to smash it with my hand, hit the toilet paper holder with my elbow and my phone goes flying. Now I'm super ticked right? Dude comes at me again so I'm flailing like a kid trying to fly in a circle with one arm. The wind sends him sailing. I lose him in the turmoil. Rooms white, how I lose a mosquito in there I'm at a loss for words. Head hunting I find him right underneath me by the drain. I give him a chemical bath of random materials ok in the hopes that he dies. Turns out it was just a gnat.. mosquito bit my butt cheek. Moral of the story, this INCIPIO phone case works excellent if you are attacked by bug on a toilet and it leaves your hand into a wall and onto the floor.
Customer Service - 9 days ago
Hello Cmartin7, We're delighted to hear that our Duo case can survive a vicious mosquito attack. Thank you for taking the time to share your 5 star rating with us. We very much appreciate it. Stay safe out there.
Excellent!!
Yes, I'd recommend this product.
I have been used this cover for 6 years and I have never experienced any problem or complain.