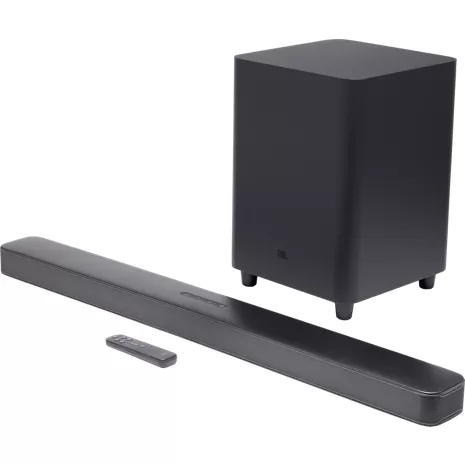 Overview tab selected 1 of 4
Overview Section Start
Immerse yourself in a high-quality sound experience with the Bar 5.1 Surround Soundbar with Wireless Subwoofer. This soundbar-subwoofer combo with JBL MultiBeam technology creates a cinematic sound right in the comfort of your own home. The soundbar creates 550W of output power that fully immerses you in your favorite film. The 10-inch wireless subwoofer creates a powerful, punchy bass to bring the movie to life. And, it also supports Ultra HD 4K Pass-through with Dolby Vision™ so your high-definition TV has the sound to match.

Stream your favorites.
The Bar 5.1 Surround Soundbar with Wireless Subwoofer also features a built-in Chromecast and Airplay 2. Now you can stream your favorite online content to your TV with the tap of your finger.

Tune in.
The Bar 2.0 All-in-One Soundbar enhances more than just movies. Use the Bluetooth connection to stream your favorite playlist for an impromptu dance party or relaxing background music.
Reviews
67% of reviewers recommend this product.
This thing bumps!
Perfect four our large basement room. The sound is clear and when you need it to the bass will shake the entire house. Well worth every penny.
Not worth the hefty price tag
Verified Purchaser . 8 months ago
Set-up was easy-ish. Just make sure to connect it to wifi using Google Home or Alexa, since it needs an update from the factory. Also calibrate it after the update. Bass is fine at 5, but not as deep or loud as I would like without turning the soundbar up too (since there are no EQ options). JBL has a different 5.1 soundbar with detachable surround speakers, which I should have chosen but is not available at Verizon. The virtual surround tries its best, but at no point was the sound bouncing around the room precisely enough to where it seemed like the surround was behind me. Dolby Atmos is supported, but barely made a difference. If JBL had put upward firing speakers and the option for separate surround speakers maybe I would suggest it, but that is not the case and for this price you can get better soundbars elsewhere. Only reason I did purchase it is because of the $500 BYO device gift card.