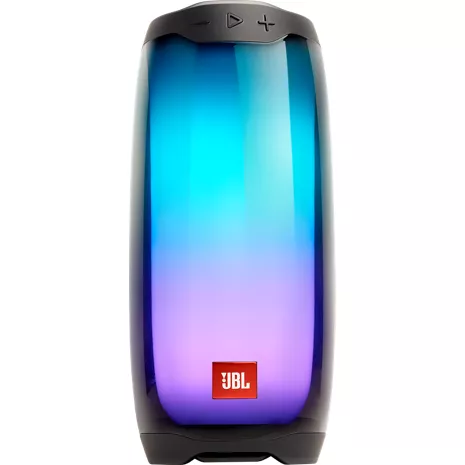 Overview tab selected 1 of 4
Overview Section Start
Light up the party with the Pulse 4 Portable Bluetooth Speaker. The beautiful, high resolution 360-degree LED light show lights up to the party. The colors and patterns respond to sound creating a dynamic display throughout the room. JBL Signature Sound also features a 360-degree speaker array for a full sound that you can hear anywhere in the room. PartyBoost lets you pair 2 compatible speakers for stereo sound or multiple speakers for even sound throughout the space. You can even shake your Pulse 4 speakers to sync your light show. And, with up to 12 hours of battery life,¹ the beat goes on and you can dance the night away.

Take the party outdoors.
With an IPX7 waterproof rating, you don't have to worry about your party making a splash. The Pulse 4 is waterproof up to 3 feet.²

Go further with the app.
The JBL Connect app allows you to keep control of your party. You can even select from a variety of light show themes to keep things interesting.

1. Battery life and charge cycles vary with use, settings, and other factors; actual results will vary.

2. IPX7 waterproof rating. Can be immersed in water up to 1 meter for up to 30 minutes.
Reviews
88% of reviewers recommend this product.
my favorite speaker
tonysbakery . 2 months ago
I was given this speaker a couple of years ago and i love it. i use it everyday, take it with me most places. it is water resistant (in the sense of being in a very steamy room and being touched with water every once in a while), and i have never had any issues with it. the charge is super long, the audio is really good, and the app makes the color and everything just kinda great. 10/10 recommend for a dark shower and the lights of the speaker lighting up the room too
jbl.com Originally posted on jbl.com
Speaker stopped connecting
I only had this speaker for about two months before it completely wouldn't connect to my phone anymore. I've tried everything; the factory reset, completely charging it, forgetting the device on my phone and tying to re-pair it, even restarting my phone as well. It won't pair at all and every time I go to my bluetooth devices and try to select, it immediately says "out of range" or "pairing took too long", even though my phone is right next to it. My speaker is just constantly stuck in pairing mode, but won't actually connect to anything. It's super disappointing because the quality of the sound is really good, but it's not worth that price if it's just going to stop working in a couple months.
Customer Support - 4 months ago
Thank you for reaching out. We're here to help. We'd like to know more about your inquiry and address it accordingly. We can also check that one of our representatives sent you an email to further assist you with your concern. 


jbl.com Originally posted on jbl.com