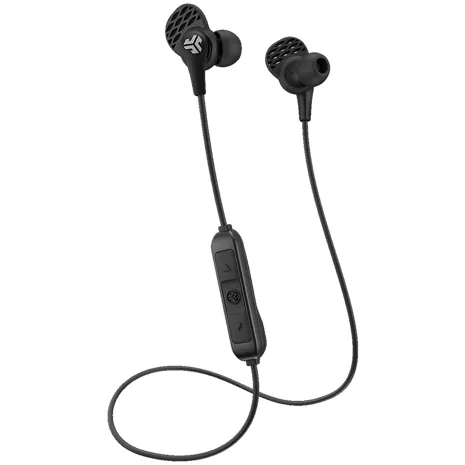 This item is currently only available for Express Pickup. 
Select a store to continue.
Free returns within 30 days.Details
Take your music with you wherever you go with the Pro Signature Wireless Earbuds. These lightweight wireless earbuds provide amazing JLAB C3 sound with custom EQ3 settings so you can make the most of your listening experience. Adjustable tip placement combined with cush fins and gel ear tips is designed to provide a secure and comfortable fit. The Bluetooth 5 connection allows for continuous sound for up to 10 hours of playtime.* Microphone and track controls are built right into the earbuds. And, with an IP55 sweat resistance rating,† you don't have to worry about sweat or rain affecting your earbuds.

*Battery life and charge cycles vary with use, settings, and other factors; actual results will vary.
†IP55-rated. Protection against limited dust ingress and from low-pressure water jets from any direction.
Reviews
67% of reviewers recommend this product.
favorite headphones sssss
lillililli . 2 months ago
Please don't stop making these, they are my friends. BestBuy stopped selling them essentially so I got worried. It definitely seems like BestBuy is going through its own apocalypse. Luckily it seems like I'll be able to order them even cheaper from the source whenever I need a new pair. I'm always a little late to the just order stuff online party. I like the wire that connects the two headphones. It's like the yarn that connects the two mittens so you don't lose your mittens. My partner loses his stupid expensive non-connected earbuds like every three weeks. I had a pair of these JLabs which lasted me throughout the pandemic, like almost two years. And if you lose them or bust them up with too much loud music they're an easy financial replacement. And I really like the sound quality even compared to my partner's stupid expensive (cough cough Bose cough cough Sony) earbuds. The lady that says "goodbye" when you turn off the headphones is a little scary at first but she has, after enough years of wearing these same headphones become my friend. I ordered two pairs of the teal color just in case the apocalypse happens and I need a backup pair. Would 10/10 go for a yellow or an orange. :D
Battery desn't last 10 hrs sssss
Everything is good except for this:10+ hour Bluetooth®