LifeProof FRE Case for iPhone 12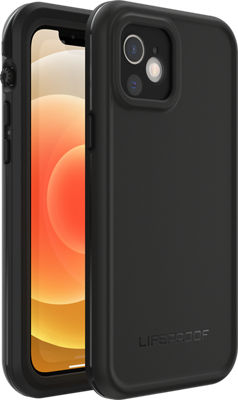 Get it fast
Select shipping options at checkout. Subject to eligibility.
Reinforce your smartphone using powerful FRĒ technology. Defend against scrapes and scratches with a crystal-clear built-in screen protector that preserves the touch and clarity of your device.

Protect your iPhone 12 with The Four Proofs.
Waterproof: Can be submerged at depths up to 6.6 feet for up to 1 hour.*
Dirt-proof: Seals your device against dirt, dust and sand.
Snow-proof: Closes your device off from snow and ice.
Drop-proof: Can endure falls up to 4 feet.**

Preserves your phone's photo and audio clarity.
Keep your photographs distortion-free thanks to the FRĒ's anti-reflective optical-glass lens. Receive maximum acoustic output and clarity using the case's enhanced speaker port.

Thin and light.
Show off your iPhone 12's natural design with a thin and clear-backed case. The LifeProof FRĒ's screen protector is both slim and subtle. And its design provides full access to your device's features, functions and controls, including Touch ID.

Proven tough.
LifeProof cases are built to physically withstand the drops, fumbles, vibrations and bumps you encounter from day to day. They meet the U.S. Military Standard 810G-516.6 for drop and shock protection. And they're rated IP68: the highest protection rating for solids and liquids. That means they can withstand circulating talc for 8 hours and water immersion at depths up to 6.6 feet (2 meters) for up to 1 hour.*

Total Water Protection Plan.
Stay protected against accidental spills, dunks, plunges and more. Each LifeProof purchase comes with a one-year Total Water Protection Plan. Within one year of purchase, LifeProof will repair or replace your eligible device should it suffer water damage while in the case.†

*IP68 waterproof rating. Can be immersed in water up to 6.6 feet (2 meters) for up to 1 hour.*

†Terms, conditions and service fee apply. Your LifeProof case must be registered within 14 days of the date listed on the original Verizon receipt. Visit https://twpp.lifeproof.com/ for all terms and conditions.
Reviews
3.6/5
118 reviews
64%
of reviewers recommend this product.
Horrible case.
Kaydensdaddy · 15 days ago
Since otterbox bought lifeproof the cases have drastically went down hill. Not anywhere near the $100 it cost. DO NOT BUY THESE CASES.
LifeProof Support Team - 12 days ago
Hi there!

We're sorry to hear about your disappointment with your FRĒ case! We'd love to hear more detailed feedback about your experience, so we can pass your thoughts up the ladder to our design team. Feel free to call us at 1-888-533-0735, and we can let our engineers know about what went wrong.

Best,
LifeProof Customer Service Team
Live by these cases…until now
I've had three phones and SWORN by Lifeproof cases… working on the farm, my phone gets exposed to ALL the weather and ALL the wear and tear. This one however, I've had three cases. The first one came with dots in the front cover that made it hard to read. The second my aunt bought me for a gift and the camera lens cover in the back was so scratched every picture was blurry. My last one broke. I'm truly not sure it's worth another purchase which sucks because this is my favorite case and company.
Customer Service Team - 16 days ago
We're so sorry to hear you've had back-to-back-to-back (whew) discouraging experiences with the LifeProof FRĒ for your iPhone 12. Those microdots on the integrated screen protector are actually an intentional design element put in place to help prevent the potential and unsavory dynamic often referred to as the Rainbow Effect or Newton's Rings. Although you can see the dots a little bit when there's a bright or white image showing, they shouldn't be too noticeable on a medium to dark screen. As far as scratched camera covers and other wear and tear, we'll be more than happy to help get you set up with a brand-new replacement for a fresh start at maximum protection! https://www.lifeproof.com/en-us/warranty-claim Best, LifeProof Customer Service Team