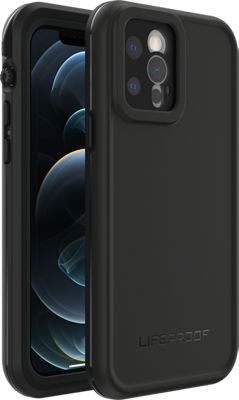 Reinforce your smartphone using powerful FRĒ technology. Defend against scrapes and scratches with a crystal-clear built-in screen protector that preserves the touch and clarity of your device.

Protect your iPhone 12 Pro with The Four Proofs.
Waterproof: Can be submerged at depths up to 6.6 feet for up to 1 hour.*

Dirt-proof: Seals your device against dirt, dust and sand.

Snow-proof: Closes your device off from snow and ice.

Drop-proof: Can endure falls up to 4 feet.**

Preserves your phone's photo and audio clarity.
Keep your photographs distortion-free thanks to the FRĒ's anti-reflective optical-glass lens. Receive maximum acoustic output and clarity using the case's enhanced speaker port.

Thin and light.
Show off your iPhone 12 Pro's natural design with a thin and clear-backed case. The LifeProof FRĒ's screen protector is both slim and subtle. And its design provides full access to your device's features, functions and controls, including Touch ID.

Proven tough.
LifeProof cases are built to physically withstand the drops, fumbles, vibrations and bumps you encounter from day to day. They meet the U.S. Military Standard 810G-516.6 for drop and shock protection. And they're rated IP68: the highest protection rating for solids and liquids. That means they can withstand circulating talc for 8 hours and water immersion at depths up to 6.6 feet (2 meters) for up to 1 hour.*

Total Water Protection Plan.
Stay protected against accidental spills, dunks, plunges and more. Each LifeProof purchase comes with a one-year Total Water Protection Plan. Within one year of purchase, LifeProof will repair or replace your eligible device should it suffer water damage while in the case.†

*IP68 waterproof rating. Can be immersed in water up to 6.6 feet (2 meters) for up to 1 hour.*

†Terms, conditions and service fee apply. Your LifeProof case must be registered within 14 days of the date listed on the original Verizon receipt. Visit https://twpp.lifeproof.com/ for all terms and conditions.
Reviews
175 reviews
of reviewers recommend this product.
Definitely waterproof poor screen quality.
Royalbeard86 · 15 days ago
Bough this last week love the feel and it is definitely waterproof. However, the screen quality is flimsy and not super clear. And it does a terrible job with facial recognition. I have even went as far as redoing facial recognition and still won't pick it up most of the time.
LifeProof Support Team - 14 days ago
Great to know the LifeProof FRĒ has your vote of confidence in terms of waterproof protection, but we're sorry to hear of the struggles you're having with facial recognition. That hasn't been anything that's tripped us up during our internal testing of the case design, so we were surprised that you'd had such trouble, and we're hopeful this is just a one-off that can be quickly resolved with a brand-new warranty replacement.

Just give us a call at 1-888-533-0735 and we'll be glad to help get one in the works!

Best,
LifeProof Customer Service Team
Camera cover gets scratched and useless
Willraftforfood · 24 days ago
As with many other reviews here, I have had serious problems with how easily the camera cover gets foggy/scratched. I used previous models for years and never had an issue. Until today I thought that this recent problem had to do with what I do for a living, but it turns out it is universal. I have a river based outdoor adventure company and have been carrying my iPhone on the water in a lifeproof case for years so that I can get photo and video for my business. The most recent version of the FRE case has made it essentially useless if you plan to use your phone camera. iPhones are waterproof already, so for the average person you might as well just get a standard case for the shock protection. The current model of the FRE case is basically a waste of money. I have had two this year already just hoping that it was a fluke. Turns out it's all of them. I hope you are able to fix this soon because I previously raved about this product to every person I saw that stood still longer than 30 seconds.
Customer Service Team - 22 days ago
You're not wrong to expect consistent clarity while using the LifeProof FRĒ to help keep your iPhone safe from harm while barreling down the river, and we're very sorry to hear things with those snapshots have gone strangely sideways with two different cases. We'll definitely make sure our quality and design teams dig into this, but in the meantime, please do give us a call at 1-888-533-0735 and we'll be glad to see what we can do to help more immediately. Best LifeProof Customer Service Team