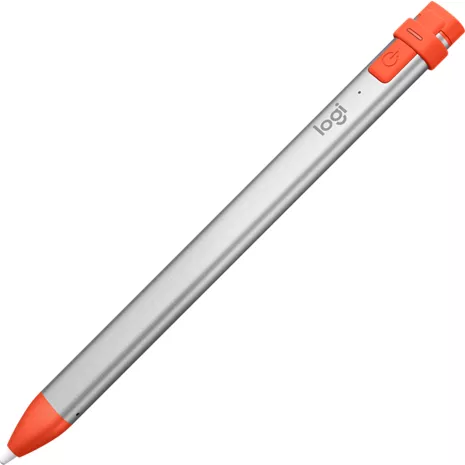 Let your imagination flow. The Logitech Crayon uses Apple Pencil® technology and was designed specifically for the iPad. With no perceivable lag time and pixel-perfect precision, it feels as smooth and natural as using pen and paper.

Smart sensors.
The Logitech Crayon features palm rejection technology, so you can rest your hand comfortably against the screen while writing notes or making a quick sketch. Switch the angle of your Crayon to adjust line thickness just like a real pen.

Perfectly convenient.
Sync your Logitech Crayon to your iPad with the click of a button no complicated pairing required. A flat design keeps your pen secure and in place, preventing it from rolling away or getting lost beneath a table.

Long-lasting.
The Logitech Crayon refuels quickly and lasts for up to 7 hours per charge, giving you more time to sketch, do homework or take notes during class.* It's even been tested to endure drops up to 4 feet.*

App compatibility.
Make the most out of your pen. The Logitech Crayon works with hundreds of apps supported by Apple Pencil.

*Based on independent testing.
Reviews
25% of reviewers recommend this product.
Great item sssss
Yes, I'd recommend this product.
Works great got upgraded to the iPad Pro 2020 and it works great!!!!
Logitech - 2 years ago
Hi Dmoejr,
Thank you for your five-star review! It is greatly appreciated. Continue to enjoy your device. If you ever need assistance, please contact Logitech Support on the website.
LaShonda from Logitech
Does not work on iPad Pro as indicated on website sssss
Don't waste your money or time on this logitech item...does not work as specified. Used on several items on the "compatible list" and the crayon does not work.
Logitech - 2 years ago
Hello Steve, I'm sorry to hear about your experience with the Logitech Crayon. The Logitech Crayon is compatible with :
iPad Pro 12.9-inch (3rd gen)
Model Numbers: A1876, A2014, A1895, A1983

iPad Pro 11-inch
Model Numbers: A1980, A2013, A1934, A1979

iPad (7th gen)

iPad (6th gen)
Model Numbers: A1893, A1954

iPad Air (3rd gen)
Model Numbers: A2152, A2123, A2153, A2154

iPad mini (5th gen)
Model Numbers: A2133, A2124, A2126, A2125

*All iPad models must be updated to iOS 12.2 and above

If you need assistance, you can always get support on our Logitech support website.