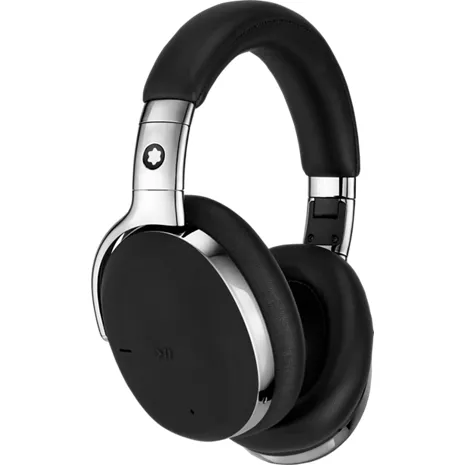 This item is currently only available for Express Pickup. 
Select a store to continue.
Free returns within 30 days.Details
Overview tab selected 1 of 4
Overview Section Start
Enhance the quality of your listening experience with the MB 01 Headphones. High-quality aluminum, fine leather and robust silicon provide a comfortable and lightweight design for long term wear. State of the art components and software, as well as easy to reach buttons make changing songs, checking messages and using your Google Assistant a breeze. And, with up to 20 hours of battery life, you'll be able to make it through the day without charging.*

Fast charging capabilities.
Never waste time waiting on a charge. Fast charge your MB 01 Headphones up to 3 hours in 10 minutes, and achieve a full charge in 2 hours.

Premium audio.
With premium audio hardware, these headphones feature a signature sound you won't find anywhere else. Add in Active Noise Cancelling, and you can immerse yourself in high-quality sound with minimal interference from the outside world.

Clear calls.
Clear Voice Capture technology ensures that your voice will be heard, even when the world around you is loud and noisy.

*Battery life and charge cycles vary with use, settings, and other factors; actual results will vary.
Reviews
86% of reviewers recommend this product.
Durability Issues
Comfort-wise top notch! You can wear them the whole day without feeling any pressure points. Sound-quality isn't appreciably better than headphones half the price, but the aesthetics and comfortable were originally what drew me to the product. The brown and gold ones in my opinion look phenomenal. Build quality-wise is where I ran into issues. They are a light pair of headphones due to the use of plastics that are coated in a metal looking finish. My pair broke along the hinges. Was trying to put them on and they snapped along the hinge. At that point, I had only had them for four (4) months. Expected customer services to be better for a pair of premium headphones. More so disappointed that neither company was willing to stand behind the product and at least offer to fix my pair. When I reached out to both parties (Verizon and Mont Blanc) they suggested they couldn't help me and recommended I resolve it with the other. Even went into the store and brought in my pair (since calls and emails weren't going anywhere) but still left with the broken pair. If anything, hope this is helpful for those considering. I actually like the product, but an unfortunate situation. If you are going to buy them I'd be extra cautious about putting tension around the hinged folding section and added warranty would be a worthwhile consideration.
Good set of headphones, but.....
Yes, I'd recommend this product.
Good set of headphones, but the app needs some work. The feel is great, on my head. When adjusting the levels in the app, things get a little weird. Plus the app will readjust the levels from time to time.