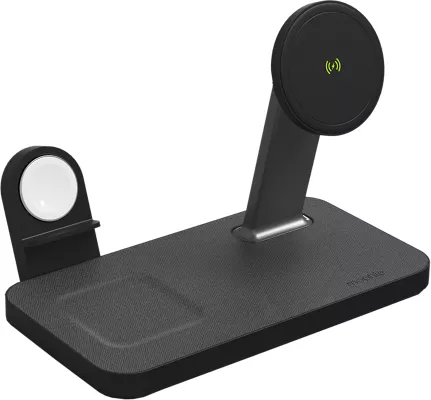 Keep your devices fully charged with the 3-in1 wireless charging stand with watch adapters. Made in part with up to 30% post-consumer recycled plastic, this sturdy charging station has a weighted steel base to keep it in place. Delivering up to 15W of wireless charging power, you can charge a smartphone, smartwatch and earbuds simultaneously. Watch adapters are included for both Apple and Samsung watches, as well as a designated spot for your earbuds. Charge your phone in portrait or landscape mode. And, it includes a snap adapter so you can use the MagSafe compatible phone charger to charge any Qi-enabled device.
Reviews
7 reviews
of reviewers recommend this product.
So happy, I bought 2
Purchased for Apple Watch, iPhone and ear buds. Looks great, less wires and all fit comfortably AAA+++
No cable management for watch puck
There is no where to store the excess cable from the watch puck like other chargers on the market. The whole point of a charger like this is to have an elegant cable free charging solution for your desk or night stand.. Also, attaching an iPhone to the charger will give the 15 watt charging animation and chime however the box and the website description clearly state that you only get 7.5 watts of charging. It's confusing. Other Qi charging stands that I have give only the lightning bolt battery indicator and chime when attaching the iPhone and they too only offer 7.5 watts of charging. So which is it, Mophie, 7.5 or 15 watts of charging? I don't like this stand. It's poorly designed and constructed. I'd rather have one from Anker for less money or for a more premium experience get the Satechi 3-in-1. Both are more elegant and better all the way around.