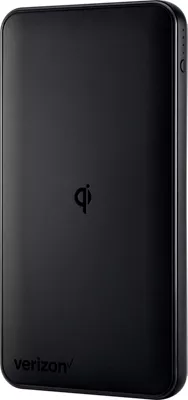 Whether you're looking for extra power during a hike or after a full day of work, the 5K mAh Portable Power Pack with Wireless Charging from Verizon is here to help. This sleek, portable charging pad works with most Qi-enabled smartphones - all you have to do is place your device down and the power pack does the rest. It's even compatible with most lightweight cases. Save time charging multiple devices: plug a wired device like a tablet into the USB-A port and charge your phone wirelessly at the same time.
Reviews
16 reviews
of reviewers recommend this product.
Terrible!
First off the instructions were very brief - just illustrations only, not written out, made it very hard to understand. Took me a long time to figure out on my own! Then I could not get it to charge! Second problem is the cord that came with it doesn't work, would start charging for 5 to 10 seconds then would stop! Had to use my own cable! Third problem is that it doesn't stay charged long at all! This totally defeats the purpose that I bought it in the first place, power outages! I need it fully charged so when my power does go out, I can use it when my cell phone battery is running low and needs to be charged when my power is still out! I would NOT recommend this product one bit! A total waste of my money!