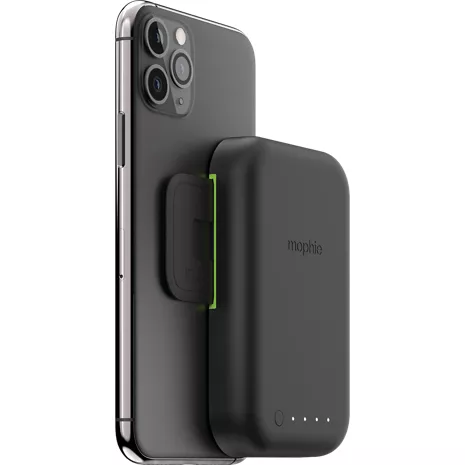 Overview tab selected 1 of 4
Overview Section Start
Keep your phone charged while on the go with the juice pack connect. This compact, portable battery slides easily on and off your compatible Qi-enabled smartphone so it doesn't add any extra bulk. juice pack connect wirelessly charges your phone on the go, so you don't have to worry about finding a place to plug in your phone, and don't need to bring any extra cables. It even charges through lightweight cases. The easy-to-use connect anchor system makes taking it on and off a breeze. The included connect stand lets you prop up your phone while you charge. And, with up to 70% extra battery life, your phone will keep going as long as you need.



1. Number of charges expressed in percentages based on wireless charging, using a fully charged pre-production juice pack connect to charge an iPhone 11 Pro in airplane mode from 0-100%. Results will vary based on environmental factors, device settings and individual usage.
Reviews
33% of reviewers recommend this product.
Juice pack
Very good quality and nobody can't beat the prices on zagg always the bes of the best thanks zagg I do recommend this product to anyone
zagg.com Originally posted on zagg.com
Fail
Neftaly N. . 9 months ago
Does not fast charge, keeps turning on by itself. When put on charger attached to phone the bypass charging isnt fast charger either. Epic fail.
zagg.com Originally posted on zagg.com