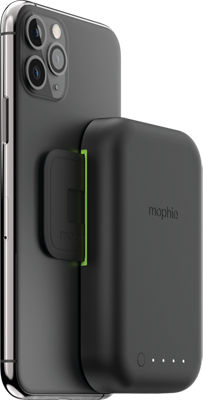 Keep your phone charged while on the go with the juice pack connect. This compact, portable battery slides easily on and off your compatible Qi-enabled smartphone so it doesn't add any extra bulk. juice pack connect wirelessly charges your phone on the go, so you don't have to worry about finding a place to plug in your phone, and don't need to bring any extra cables. It even charges through lightweight cases. The easy-to-use connect anchor system makes taking it on and off a breeze. The included connect stand lets you prop up your phone while you charge. And, with up to 70% extra battery life, your phone will keep going as long as you need.
1. Number of charges expressed in percentages based on wireless charging, using a fully charged pre-production juice pack connect to charge an iPhone 11 Pro in airplane mode from 0-100%. Results will vary based on environmental factors, device settings and individual usage.
Reviews
48 reviews
of reviewers recommend this product.
It's handy to be able
Kimberley R. · 3 months ago
It's handy to be able to charge the battery pack and phone at the same time on a wireless charger
Gear4 case and Mophie Juice Pack Connect
Lindsay S. · 7 months ago
Having owned a previous Mophie battery case in the past, I was familiar with the quality of the Mophie brand already. This new case, from Gear 4, along with a detachable Mophie battery is an even better idea, since the battery slides on when you need it, and can be removed once you have transferred more battery life from the Mophie battery to your phone. I mainly bought this product to use on long distance bike rides, to prevent running out of battery power in the middle of the bike rides, but there are many other instances where this product can be very useful, such as when in important company meetings, in a restaurant, in the movies, or anywhere else where you might find yourself fumbling with your cord and looking around for an outlet to plug in.