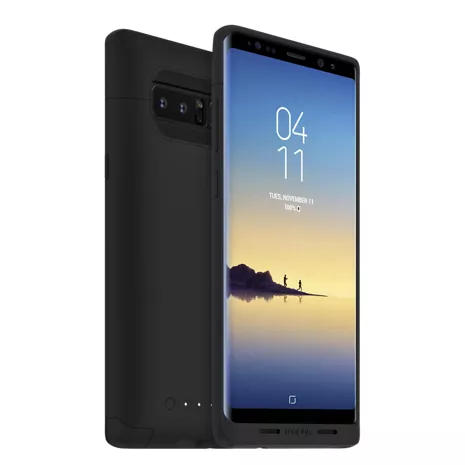 This item is currently only available for Express Pickup. 
Select a store to continue.
Overview tab selected 1 of 4
Overview Section Start
Get the power to talk more, text more and surf longer with the mophie® juice pack for Galaxy Note8. The juice pack case's built-in 2,950 mAh battery provides your Galaxy Note8 with more power*, adding over 24 hours of talk time so you can stay connected throughout your day.

And when power does run low, finding a power outlet isn't necessary to restore power to your phone and the battery pack. The juice pack lets you experience the joy of wireless charging. The Galaxy Note8 and juice pack conveniently charge on virtually any wireless charge pad, including wireless charging accessories.

The juice pack is also designed to guard against dents and scratches in a way that does add noticeable bulk or weight to your phone. The battery pack's slim, two-piece frame snaps together to perfectly conform to the curved back of the Galaxy Note8, ensuring protection from drops and tough falls.

Power to do more of what you love best
The juice pack provides the Galaxy Note8 with an additional 2,950 mAh of power, providing up to 24 additional hours of talk time.

Convenient charging, no power outlet needed
Charge simply by placing the juice pack on a wireless charging base. Ideal for a desk, nightstand or anywhere you place your wireless charging base.

Protection you can count on
Your phone will be safe from every day wear and tear thanks to the juice pack's raised bezel edge and hard, polycarbonate outer shell.

Priority+ Charge & Sync
Sync your phone with a computer while using the juice pack. This feature allows for pass-through charge & sync: your Galaxy Note8 recharges first, and then the juice pack case recharges itself. And the LED power indicator displays the juice pack battery levels and charge status.

Integrated standby switch
Want to save your battery life because you know something is happening later in the day, and you'll be snapping lots of pics? No problem! You decide when to charge and when to save some juice for when you need it most by flipping the integrated standby switch. And you'll always know how much you have left in the tank: the LED power indicator displays the juice pack battery levels and charge status.

Testing all the way
In order to ensure reliable, long-lasting performance, every mophie battery product is tested at three different stages of production. This helps to ensure an unmatched capacity, efficiency and build quality and ultimately, an enhanced experience with your Galaxy Note8.

Charge vault technology
Reliability is synonymous with the mophie name thanks to charge vault technology. It enables mophie products to hold their charge for an extended period of time.

Not too much, not too little
Digital power management means that your device always receives the perfect amount of power for a safe, quick charge due to the use of smart charging circuitry.

Check the status with just a look
The integrated LEDs indicate the battery level and charge status.
Reviews
68% of reviewers recommend this product.
What a good deal!
Juice pack works as advertised but integrates so well ....I was really impressed with this product on my note 8.
zagg.com Originally posted on zagg.com
Poorly designed.
Stoped using this after 5 days of usage. Charging this juice pack with phone is annoying. It basically kills the life of phone battery.
zagg.com Originally posted on zagg.com