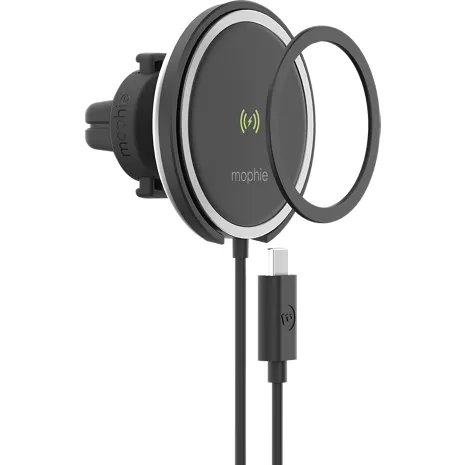 Keep your device charged while on the go with the snap+ wireless vent mount. This lightweight car mount features a removable charging puck so you can charge at home as well. Easy, single-handed operation with the magnetic array makes it easy to insert or remove your phone with just one hand. It's compatible with both Qi and MagSafe wireless charging. Make calls and follow GPS directions with a hands-free setup. And, the universal metallic ring attaches to most smartphones compatible to make them compatible with other snap accessories.
Reviews
0% of reviewers recommend this product.
does not hold well sssss
I feel that the clips are too short and should be longer to add more grip (and even hooks) to wrap around vent piece.
Great charger sssss
Makes charging my phone plus keeping it up where I can see it very easy and convenient without having to constantly plug and unplug a cord. The magnet works pretty good and holds my phone pretty secure.