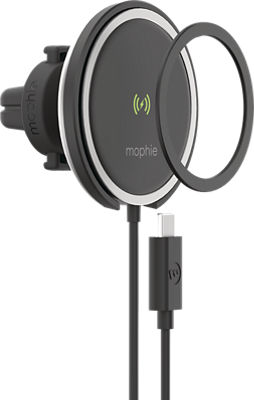 Keep your device charged while on the go with the snap+ wireless vent mount. This lightweight car mount features a removable charging puck so you can charge at home as well. Easy, single-handed operation with the magnetic array makes it easy to insert or remove your phone with just one hand. It's compatible with both Qi and MagSafe wireless charging. Make calls and follow GPS directions with a hands-free setup. And, the universal metallic ring attaches to most smartphones compatible to make them compatible with other snap accessories.
Reviews
51 reviews
of reviewers recommend this product.
Great Charger..Vent Attachment needs a little work.
Great charginf capability. Vent mount needs longer attachment points to make it much easier to rig.
I love the product
I really love this car phone charger. I haven't tried it with a MagSafe case yet. However, the phone will randomly fall off charger sometimes if it's not properly placed on the charger. Also, it is a little difficult to clip the charger to the car vent because there isn't enough space for your fingers to push the buttons when trying to attach the charger to the vent.