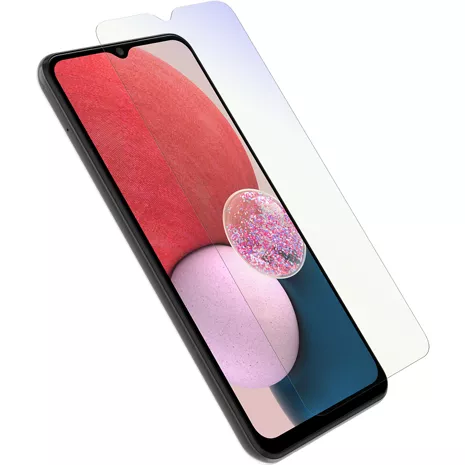 Overview tab selected 1 of 4
Overview Section Start
Protect your screen from cracks and scratches with the Alpha Glass with Antimicrobial and Blue Light Screen Protector for Galaxy A13. Fortified glass infused with blue light protective technology shields your eyes from blue light waves. Advanced materials deliver a solid anti-scratch defense¹ for a shatter-resistant design. And, antimicrobial technology protects the surface of your device, reducing bacteria and germs.²

Easy application.
The included Applicator Tool makes it easy to install your screen protector without any bubbles or bumps.



¹ Versus soda lime glass.




² Alpha Glass does not protect the user or provide any express or implied public health benefit.



Reviews
71% of reviewers recommend this product.
It worked good on my iPod but it didn't seal well on my phone
Yes, I'd recommend this product.
Had to give it back to the store
OtterBox Customer Support - 1 year ago
Sorry to hear you had some issues with the Alpha Flex screen protector staying properly in place atop the display of your Galaxy A13. That piece definitely should adhere to the device touchscreen, and without a better understanding of the situation it's tough to say why things didn't go as planned.

Sounds like you've already moved on from the item, but please do give our friendly Otters a call at 1-855-688-7269 if we can ever be of any Otter assistance down the road and we'll always be happy to help!

Best,
OtterBox Customer Service Team
Love this!! Had a flip phone but it cannot compere!!
Yes, I'd recommend this product.
I bought this about 3weeks ago and very happy with this phone