OtterBox Alpha Glass with Antimicrobial and Blue Light Screen Protector for Galaxy A13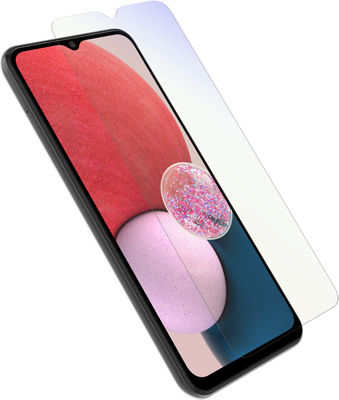 Get it fast
Select shipping options at checkout. Subject to eligibility.
Protect your screen from cracks and scratches with the Alpha Glass with Antimicrobial and Blue Light Screen Protector for Galaxy A13. Fortified glass infused with blue light protective technology shields your eyes from blue light waves. Advanced materials deliver a solid anti-scratch defense¹ for a shatter-resistant design. And, antimicrobial technology protects the surface of your device, reducing bacteria and germs.²
Easy application.
The included Applicator Tool makes it easy to install your screen protector without any bubbles or bumps.
¹ Versus soda lime glass.
² Alpha Glass does not protect the user or provide any express or implied public health benefit.
Reviews
2 reviews
of reviewers recommend this product.
Terrible adhesion/bubbles after a day.
Disappointed · 1 month ago
I bought this along with my phone together. The install on otterbox products is pretty straightforward, especially with the mold that holds the phone in place. During the install on my first screen protector the top left and right corners didn't adhear and I had bubbles in the middle and edges of the phone that wouldn't go away. About 12 hours after putting the screen protector on the top right corner completely came off after putting my phone in my pocket. Contacted otterbox and got a warranty replacement for another 10 dollars. During install of the second screen protector the same thing happened, small bubbles along the entire perimeter of the screen protector that won't go away. I've taken the included squeegee and tried to remove them, pushing hard enough to permanently dent the screen protector. I've always personally felt otterbox products are incredibly over-priced and built poorly. The 8 dollar Armor suit screen protector I installed after giving up on the otterbox went on fairly easily and has 0 bubbles. Please dont waste your money.
OtterBox Customer Support - 1 month ago
Hi there!

We're sorry to hear about your disappointment with your Alpha Glass! We appreciate your feedback about the troubles you've been having with your screen protector adhering to your screen, and we'll be sure to let our design team know about your experience. We're sad that you're using a different screen protector now, but we hope you choose to give us another chance in the future.

Best,
OtterBox Customer Service Team
Camera
Yes, I'd recommend this product.
I needed to upgrade I am still finding out how to use phone.