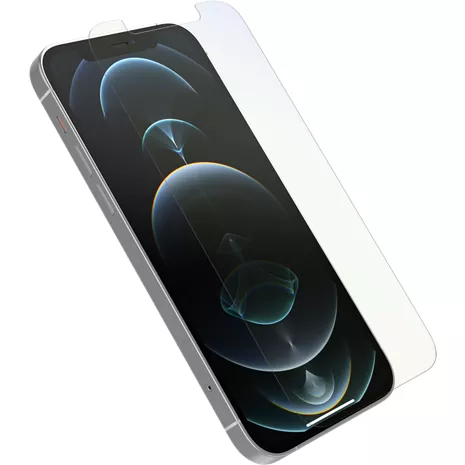 This item is currently only available for Express Pickup. 
Select a store to continue.
Free returns within 30 days.Details
Overview tab selected 1 of 4
Overview Section Start
Protect both your eyes and your screen with the Amplify Blue Light Screen Protector with Antimicrobial Technology for iPhone 12/iPhone 12 Pro. Co-developed with Corning, it provides shatter-resistant drop protection. Reinforced edges prevent chipping, enhancing durability so that your screen is defended against drops, bumps and dings. And, the fortified glass material resists splintering while not losing any touch screen sensitivity.

Antimicrobial protection.
As the first EPA-registered antimicrobial glass, the proprietary antimicrobial technology protects the surface of your device from bacteria and germs.

Blue light shield.
The glass is infused with silver ion protective technology to shield your eyes from your screen's blue light, without distorting the color and performance of your screen.

Easy application.
The included Applicator Tool makes it easy to install your screen protector without any bubbles or bumps.

¹Versus soda lime glass. Based on Corning tests. Actual results may vary.

*Helps protect the screen exterior against many common bacteria. It does not protect you.
Reviews
49% of reviewers recommend this product.
Great quality
Great quality, don't feel when touching
Ugly color
When I installed it the positioning was very cumbersome. There is an adjustable frame that needs to be pressed when you install the screen and at the same time, you have to position the screen in a lateral direction. And, also at the same time the plastic lash needs to be pulled for the longitudinal positioning. And also the screen needs to be pressed downward to touch the screen of the iPhone and somehow you have to manage to avoid air traps when the sticking area is spreading. I had a really hard time at positioning since I have only two hands. Despite my best efforts I just created some air traps. My other problem is that the screen protector is really blue but not a kind one. It looks like some kind of a "dead" blue, like a screen not completely transparent. When the phone is on you can't see it but when the phone is off the color looks really ugly.
OtterBox Customer Support - 1 year ago
We're sorry to hear you had such a rough go of it installing the Amplify Blue Light screen protector. It's disappointing that after all the effort and attention to detail you still ended up with some bubbling underneath. We'd love a chance to help smooth things out with a brand-new warranty replacement for a fresh start, so please do feel welcome to give our friendly Otters a call at 1-855-688-7269 and we'll be glad to help get one in the works.

Best,
OtterBox Customer Service Team