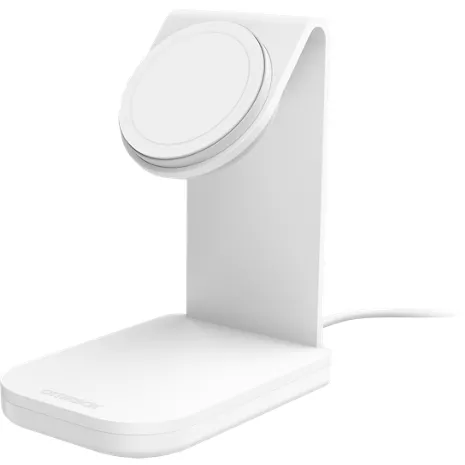 Overview tab selected 1 of 4
Overview Section Start
Keep your devices fully charged with the MFI Charging Stand for MagSafe. This refined, space-saving wireless charging stand has solid aluminum construction and a durable weighted design. The solid OtterBox design with a premium fingerprint-resistant finish is made for MagSafe. With up to 15W of wireless charging power, strong magnetic alignment and attachment allow you to securely and efficiently charge your MagSafe phone in any orientation. And, the stylish design blends into any environment.

Reviews
50% of reviewers recommend this product.
Only charges one item at a time
Thought you could charge more then one mag safe Device at the same time but you can't
OtterBox Customer Support - 1 month ago
Hello! We would love to help with some troubleshooting with your product! Please give our CS Team a call at 1-855-688-7269 and we are happy to help with this!
Failed after two days
Failed after two days and two uses
OtterBox Customer Support - 6 months ago
Oh no! We're so sorry to learn about any trouble you've had with the Charging Stand for MagSafe. We're not exactly sure what went on here, but we'd be more than happy to dive a bit deeper into this with you in order to better understand how we can help. Please give our customer service team a call at 1-855-688-7269 and they'll be able to troubleshoot things and help find the best path forward for you.

Best,
OtterBox Customer Support