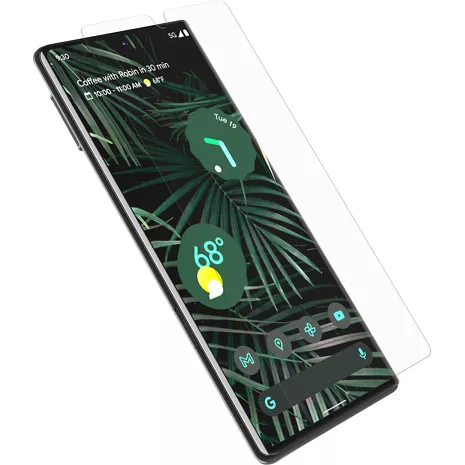 Overview tab selected 1 of 4
Overview Section Start
Protect your screen from scratches and cracks with the Clearly Protected Film Screen Protector for Pixel 6 Pro. This smudge-resistant film provides trusted protection against scratches, scrapes and scuffs. Anti-scratch defense ensures vivid clarity for your screen. And, it works with most cases to protect your device all around.

Easy application.
The included Applicator Tool makes it easy to install your screen protector without any bubbles or bumps.
Reviews
24% of reviewers recommend this product.
Decline in product quality
I originally bought this screen protector with my phone back in April of 2022. My first one lasted for over a year. I recently bought 2 more as replacements, in June of 2023. When installing the first replacement, the film protector felt thinner and less durable than the one purchased in 2022. I had some difficulties with install but finally got it on and bubble free. Within a month I had to replace it because of the corners bubbling and tearing. It is now the beginning of November and my 3rd screen protector is starting to bubble on the corner, after being on my phone for about 3 months, and I'm going to have to replace my screen protector AGAIN! I won't be purchasing this protector again!
OtterBox Customer Support - 1 month ago
Hello! We are so sorry to hear that the installation process was difficult and that your screen protector is developing bubbling and tearing issues. We have a great warranty, and we would be more than happy to get you a new product via warranty replacement. Please give our CS Team a call at 1-855-688-7269 and we are happy to help with this!
NOT Case Friendly
I would not recommend this if you use a case. I had the Verizon associate install it and he did a good job. Unfortunately it keeps peeling up on the corners and sides because it pushes where the case touches it. I have 3 different cases and each one of them causes this. If you don't use a case it's probably fine.
OtterBox Customer Support - 4 months ago
Hello! we are sorry to hear that you have experienced this issue. The screen protector for the Google Pixel 6 Pro is designed and intended to be used with a case, and so our amazing CS Team is more than happy to help troubleshoot this issue and help as needed so you can use both! Please give us a ring at 1-855-688-7269.