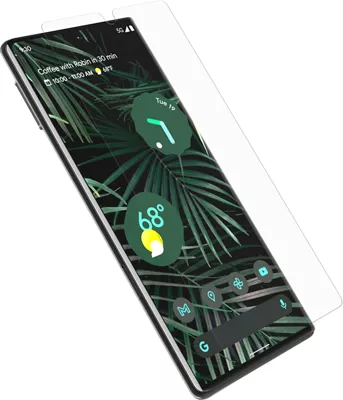 Protect your screen from scratches and cracks with the Clearly Protected Film Screen Protector for Pixel 6 Pro. This smudge-resistant film provides trusted protection against scratches, scrapes and scuffs. Anti-scratch defense ensures vivid clarity for your screen. And, it works with most cases to protect your device all around.

Easy application.
The included Applicator Tool makes it easy to install your screen protector without any bubbles or bumps.
Reviews
34 reviews
of reviewers recommend this product.
Google Pixel 6 Pro Screen protector
Horrible screen protector! It's like a slightly thicker piece of saran wrap and you can't ever get all of the bubbles out. Will not be purchasing again!
OtterBox Customer Support - 6 days ago
We're sorry to hear about your screen protector problems. Our Clearly Protected Film is meant to keep your device protected from scratches and scrapes that come from daily wear and tear. We totally get that having bubbles on your screen is not the best, so we recommend using the edge of a credit card to help keep a smooth screen when applying. If you have any further questions or concerns about this product, we would love to help! Just dial these digits 1-855-688-7269.
Worst screen protector EVER!
Honestly it isn't worth the money. Definitely the worst I've ever used. Bubbles up, smudges, tears and so much more. Outterbox used to define itself as the best and this is certainly not it!
OtterBox Customer Support - 13 days ago
Bubbles, smudges, tears and so much more is most definitely not what we had in mind for the Clearly Protected Film experience, and we're very sorry that you've had such a rough go of it with yours. We'd love a chance to help smooth things out with a brand-new warranty replacement, which we trust will provide the quality and durability you are right to expect from the Otter brand. Just send word through the following link or at 1-855-688-7269, and we'll get right on the case!

https://www.otterbox.com/en-us/warranty-begin

Best,
OtterBox Customer Support