Paperlike Pro Bundle Screen Protectors and Pencil Grips for iPad Pro 11-inch (4th Gen)/(3rd Gen)/(2nd Gen)/(1st Gen) and iPad Air (5th Gen)/(4th Gen)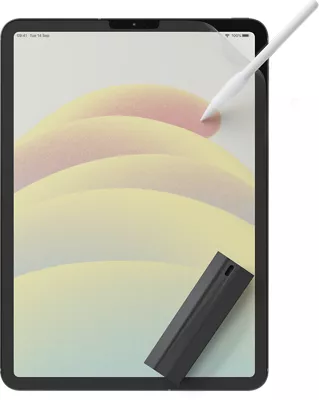 Optimize the use of your tablet with the Pro Bundle Screen Protectors and Pencil Grips for Apple iPad Pro 11" (1st, 2nd & 3rd Gen) / iPad Air (4th/5th Gen). Improve your writing experience, help keep your screen clean and maximize comfort for your pencil all in one bundle. And, this compact bundle comes in an all-in-one container to help keep everything together.

Screen Protector by Paperlike.
The screen protector makes your screen feel like real paper. This increases friction for writing and drawing, and it improves stroke accuracy and precision, reducing hand fatigue while working.

Cleaning Kit by Paperlike.
The included cleaning kit quickly removes dust, grime and skin oils to help keep your screen clear and smudge-free.

Pencil Grips by Paperlike.
These grips improve stroke precision on your pencil while maximizing comfort as you use your tablet. It works with the Double Tap Gesture and is compatible with magnetic charging.
Reviews
2 reviews
of reviewers recommend this product.
If money doesn't matter and you do it right amazing product
Jayjayson1976 · 1 month ago
Yes, I'd recommend this product.
If money doesn't matter the product itself is amazing. It is just ridiculous how much the charge for a piece of plastic. It truely does what it claim though the easy apply kit i used that came with still got some dust under and i thought I was in a dust free place. and when you peal it back that get that tiny little thing. and lay it back down not that perfect seal anymore. I would deep clean everything in a 10 food range in a room the has no breeze init at all while you apply it. Having anything under it will be a daily reminder what not to do.
Paperlike Team - 1 month ago
Thanks for your feedback! Please contact us if the dust air bubbles bother you, so we can find a solution for you asap :)