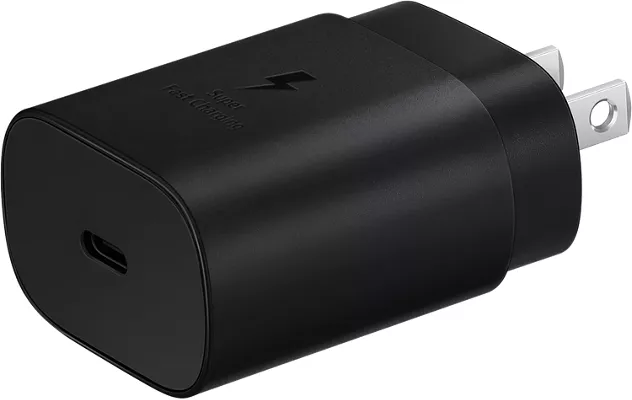 Keep your phone fully charged with the 25W Super Fast Wall Charger. Plug this adapter into any standard wall outlet and it delivers up to 3 Amps of power to charge your phone at a faster rate.² Super Fast Charging powers up to 25W so that when your phone is low on power, it doesn t have to stay that way for long.¹ It works with most Android and other compatible USB-C devices. And, it works with most USB-C cables so you don t have the change the adapter to charge your phone.³

¹Super Fast Charging (SFC) is Samsung's charging method based on Power Delivery 3.0. SFC is supported for Samsung Galaxy phones.
²Fast charging is supported for compatible devices such as iPhone 8 and higher.
³For optimum results, please use with authentic Samsung cables which can be purchased separately.
Reviews
172 reviews
of reviewers recommend this product.
Great Product
Yes, I'd recommend this product.
I bought this product a couple weeks ago and it was a great investment. Verizon should have provided this in the purchase of my new phone. They provided the cable charger for it but not a wall charger. What good use would the cable charge be without a wall charger.
Samsung snowjob
Yes, I'd recommend this product.
U'd think that with a price North of a grand they'd give U a charger especially since s22 is capable of higher/faster charger rate. This charger is as represented from Verizon and I'd purchase direct from Verizon w/o and reservations.