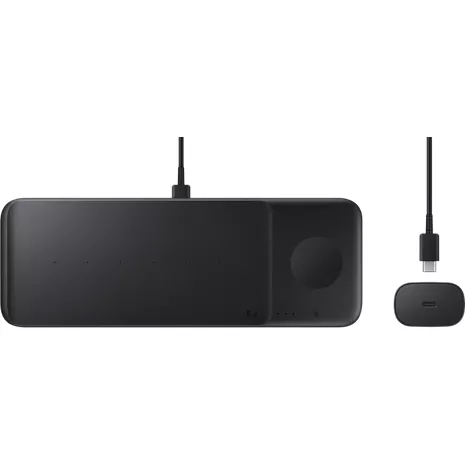 Overview tab selected 1 of 4
Overview Section Start
Charge all your devices in one shot with the Wireless Charger Trio. This slender wireless charging pad has a minimalist design to sit perfectly on your desk. It charges up to 3 devices simultaneously, so everything you need is ready to go.¹ 6 coils make it easy to charge - just put your device down and charging will begin. There's even a dedicated spot for your Galaxy Watch.² A built-in LED light lets you know the charging status of your device. And, it can charge through cases up to 3 mm thick, so you don't have to remove your case to charge your phone.³

Fast Charge compatible.
Save time charging with this convenient charging pad. With compatible devices, you can Fast Charge and get your devices to 100% faster.

1. Wireless Fast Charge is compatible with the Galaxy Note5 and Galaxy S6 edge+ and later models of the Galaxy S and Galaxy Note series. 7.5W charging applies to Apple including iPhone X and later models. Standard 5W charging speed applies to Qi-compatible devices. Requires included wall charger to operate as advertised. Use of improper power sources may result in damage to the charging pad. Faster charging speeds compared to Samsung's standard charging speed. Charging speeds may vary by device and depending on usage, charging conditions and other factors. See Samsung.com for compatibility. Tested under laboratory conditions. Results may vary. 5G Performance may be impacted by a case or cover.

2. Right pad supports charging for Galaxy Watch3, Active2, and Active smartwatches only.

3. Case material type may affect ability to charge through case.
Reviews
35% of reviewers recommend this product.
Questionable
This device does not charge my headphones. When I have my phone on it it charges super slow.
Samsung - 1 month ago
Hi RSDR, thanks for taking the time out of your hectic day to share your thoughts with us about your Samsung Wireless Charger Trio. We appreciate your directness as we strive to provide the very best products with superior functionality on the market to our customers while we remain committed to constant innovation. Our goal is for our customers to feel like they are having the most incredible experiences while using our products. Samsung provides a 12-month warranty on our products for manufacturing defects in materials and workmanship. Without having any details on the type of headphones or phone you are attempting to charge with your Samsung Wireless Charger Trio and without being able to ask you any follow up questions in response to what you have shared with us, I suggest contacting Samsung Support if you would like any further assistance and/or help with troubleshooting your device. Thank you for being a cherished Samsung customer. - Debra
Not a fast charger
Phone charging was extremely slow, I should have paid more attention to the wattage. Went with the duo instead as it's a bit faster.
Samsung - 4 months ago
Aloha Lacey, thanks for taking the opportunity to review your Samsung Wireless Charger Trio. We appreciate your honesty as we strive to provide the very best products with superior functionality on the market to our customers while we remain committed to constant innovation. Our goal is for our customers to feel like they are having the most unforgettable experiences while using our products. Samsung provides a 12-month warranty on our products for manufacturing defects in materials and workmanship. Without having more details regarding what type of device you were charging with your Wireless Charger Trio; I recommend reaching out to Samsung Support at your earliest convenience for further assistance and/or troubleshooting. Thank you for being a staunch Samsung customer. - Debra