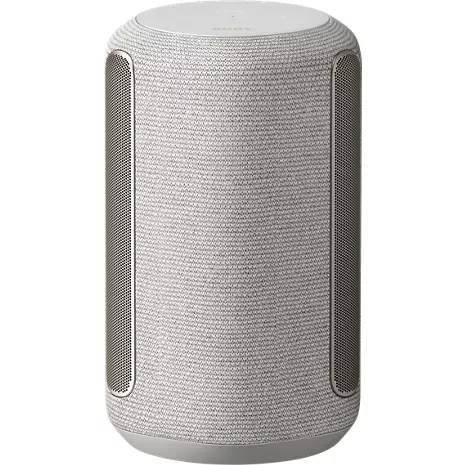 Overview tab selected 1 of 4
Overview Section Start
Immerse yourself in your favorite tunes with the SRS-RA3000 Premium Wireless Bluetooth Speaker. This Wi-Fi-enabled speaker features 360 Reality Audio, which creates omni-directional listening and deep bass. The beam tweeter creates floor-to-ceiling sound adds to the ambient, room-filling sound for immersive audio enhancement. And, it works with your digital assistant so you can ask Alexa or Google to play, pause and change the song with ease.
Reviews
100% of reviewers recommend this product.
Premium Speaker - Its ok
Antonio Pezzino . 1 year ago
The speaker design is nice but the speaker is very high pitched and if you try to turn it up to loud it's screeching at you. It's ok for low volume and the 360 sound is nice but needs more base in it.
Sony North America Customer Support - 1 year ago
Hi Antonio, Thank you for telling us about your experience with your SRS-RA3000. We are sorry to hear about the issue with your unit and we also appreciate your feedback regarding the very high pitched noise when the volume level it turned up. If you experience static, noise, or sound interruptions, try the following: • Make sure that the volume of the connected device is not too loud. • If the connected device has an equalizer function, set it to off. • Keep the speaker away from microwave ovens. • Try setting the speaker somewhere by changing the distance between the speaker and the indoor Wi-Fi environment, etc. • Bring the speaker and the BLUETOOTH device closer together. Remove any obstacles between the speaker and the BLUETOOTH device. • Turn off the connected device, and then turn it back on. For more information, you may refer to this link: https://helpguide.sony.net/ha/srsra3000/v1/en/contents/TP0002936093.html Despite your concerns, we're happy that you like the overall sound quality of the speaker. If you need further assistance regarding your concern, you can email us at socialsupport@am.sony.com with the following details: Name: Best Buy Username: Model Number: Issue: Telephone Number: Regards, Jess
sony.com Originally posted on sony.com
Excellent for TV boosting
Yes, I'd recommend this product.
I bought this speaker after checking out several other reviews online. While the speaker needs a constant power source, it's pretty light and be taken almost anywhere. Great sound! I paired it with my smart tv and it's like having total surround sound. This thing is loud. Max volume had my neighbors knocking! Sorry, mike. Gonna have to wait until he's out to blast some tuneskis.