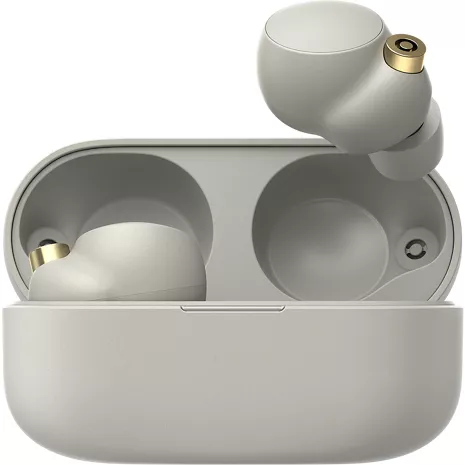 Overview tab selected 1 of 4
Overview Section Start
Immerse yourself in your favorite tunes with the WF1000XM4 True Wireless Noise Cancelling In-Ear Headphones. These Bluetooth® earphones have an Integrated Processor V1 for exceptional sound quality. Industry-leading noise-cancelling allows for clear call quality, even in noisy environments. Speak to chat technology pauses your music to capture ambient sounds when you start speaking. Up to 8 hours of battery helps get you through your daily calls.¹ And, with an IPX4 water-resistant rating, they can survive even your toughest workout.²

¹Battery life and charge cycles vary with use, settings, and other factors; actual results will vary.
²IPX4: Withstands splashing water. Do not submerge.
Reviews
70% of reviewers recommend this product.
Great Sound But Not Worth the Cost!
First, I want to say that the sound I get from the earphones is great! But for my batteries to be dying unequally after 18 months of little play, I am not happy at all! I bought these earphones in February of 2022. I have used them once or twice a week, mostly during walks. Some weeks, I didn't use them at all. A few months ago, I noticed that my left earphone was dying after an hour of play. I began checking and found out that the case is no longer charging the earphones to the maximum. Now my left will only charge 70%, my right 97%, and the case 100%. I haven't used this product enough to experience this kind of degradation! And if this is normal, this will be the only pair I ever buy from this company! I will listen to something else if this is how Sony makes earphones!
Sony North America Customer Support - 2 hours ago
Hi dvb2112, We regret to hear that you are having an battery issue with your Sony wireless noise canceling in-ear headphones. This is definitely not the customer experience we want you to have. To isolate and hopefully resolve this issue, we can follow the troubleshooting steps from this link: https://www.sony.com/electronics/support/articles/00284577. We take all user input seriously and will make sure your comments reach the appropriate person. If you are still having the same issue, you can email us at socialsupport@am.sony.com with the following details: Name: Sony website Username: Model Number: Issue: Telephone Number: Sincerely, Vincent
sony.com Originally posted on sony.com
Good features with excellent bulge too the capabil
I have had these earphones for a month now. The sound quality is good, Bluetooth capabilities excellent and its charge last a long time. My only complaint is that they are larger than I was expecting and therefore hang well out of my ear.
Sony North America Customer Support - 2 days ago
Hi PZ515, That's great! We're very happy to hear you like the amazing sound quality, excellent Bluetooth connectivity, and long battery life of your Sony WF-1000XM4. We appreciate your feedback about the size and fit. We provide an assortment of earbuds in various sizes to ensure there is a great fit for all ear sizes. To obtain the best fit and prevent the headsets from falling out, please refer to this link: https://helpguide.sony.net/mdr/wf1000xm4/v1/en/contents/TP1000237901.html Everything in the WF-1000XM4 headphones has been designed from the ground up.The new Integrated Processor V1 delivers unmatched performance while using even less power. Adding in drastically enhanced call and sound quality that reduces distortion and enables LDAC code processing and DSEE Extreme, IPX4 water resistance, and up to 24 hours of battery life with wireless charging, ergonomic surface design for a more stable fit, the WF-1000XM4 Truly Wireless Earbuds are unlike any other before them. Thanks for choosing Sony! -Sam
sony.com Originally posted on sony.com