Verizon Bluelight Tempered Glass Screen Protector for 12.9-inch iPad Pro (2020)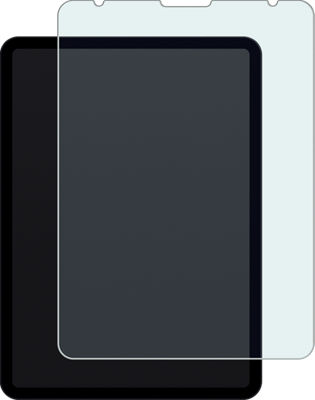 Get it fast
Select shipping options at checkout. Subject to eligibility.
Safeguard your screen and your eyes with the Bluelight Tempered Glass Screen Protector for 12.9-inch iPad Pro (2020). This advanced screen protector combines anti-scratch material with powerful anti-blue light technology to help keep your tablet looking new and safeguard your eyes. This ultra-slim protector reduces glare while maintaining the vibrant colors of your display. The Bluelight Tempered Glass Protector helps defend against eye strain, fatigue, sleep disorders, concentration issues and more.
Reviews
1 review
of reviewers recommend this product.
Nice screen protector but no instruction or guide
Seriously, this is a good screen cover for iPad Pro. Good feel and so far great protection. I replaced a prior screen protector from Verizon that shattered but protected my iPad screen on a fall. However, this box came from Verizon without ANY INSTRUCTIONS OR GUIDE. I mean any. The screen protector had two tabs, one said 1st and the other 2nd or 1 and 2. I was unsure which side was the adhesion side and did not want to touch to find out—leaving prints. I got it wrong. I was able to reverse and apply and reapply as even though I had cleaned the screen (no cleaner in kit) and wiped it with cloth provided, after reversing the screen cover after first attempt, three spots of dust were apparent. I was able to pull, clean, apply; pull, clean, apply; pull, clean apply. I finally got it it right but have two poor adhesion spot in top right corner by on/off and volume controls—caused by repeated pulling and reapplying. There are two cut out small semicircle areas one each side and adjacent to the camera cut out—not sure what these are for. Great cover with abysmal user interface for lack of any instructions.